Paula Fitzsimmons' "The Dogs of Chernobyl: A Story of Tragedy and Hope" story on PetMD won the Goodnewsforpets.com Digital Award. The award was presented at the 2020 Dog Writers Association of America Awards Banquet held February 9, 2020 in Secaucus, New Jersey.
Goodnewsforpets.com Editor + Publisher Lea-Ann Germinder presented the $500 cash award and special prize package including DWAA President Carol Bryant's Book to Fitzsimmons.
In her opening sponsor remarks Germinder said, "I have so much respect for DWAA, the work you do and the work of its members. DWAA was one of the first organizations to become a media partner of Goodnewsforpets.com. We are thrilled to once again sponsor this organization. I've worked with many leaders of the organization since 2000  including then president Mordecai Seigal who first stepped up and sponsored Goodnewsforpets.com.
Since that time I've had the honor and privilege to work with many DWAA presidents. I've interviewed several on the goodnewsforpets site including one with Carol Bryant, current president, Ranny Green, a past DWAA president and Hall of Famer and two years ago Jen Reeder," said Germinder. Germinder also recently interviewed Amy Shojai, longtime member and multiple Maxwell Medallion winner.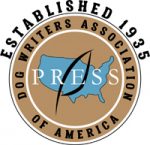 Sponsored by GoodNewsForPets.com in celebration of the digital platform's 20th anniversary, the Goodnewsforpets.com DWAA special award is for the best digital story – online video, blog post or online article with photography that best demonstrates the bond between people and their canine companions. The content must be demonstrated as having been shared through digital media.
About the Story
"Paula's story is beautifully told in rich detail and does as the title profers speak of tragedy and hope. The tragedy of Chernobyl can never be forgotten, and the challenges of the local population remain. But the bond formed between the population of dogs that were left behind and the people who care for them is not only extraordinary but does speak of hope for the future. It truly is the ultimate story of the human-animal bond. Congratulations again, Paula," said Germinder.
Congratulations to all finalists and winners, to DWAA President Carol Bryant and her leadership team for a fantastic night.
Watch for Germinder's upcoming interview with Fitzsimmons coming soon on Goodnewsforpets.com. In the meantime, visit Paula's site at pjpublications.com 
Goodnewsforpets Sponsors CWA Human-Animal Bond Award As An Early Start to 20th Anniversary Celebration