We apologize this product does not appear to be available from Chewy right now due to the Coronavirus-19 pandemic. We are researching further. Please see the comments in our community and thanks for stopping by! — Goodnewsforpets.com Updated 6/29/20
To check out some more of our favorite Chewy dental products that are also VOHC approved, click here.
Don't wait for Pet Dental Health Month to clean your dog's teeth! Oral health is important to keep up every day, and treats can count too! Treat your pal to a tasty treat and fresh breath all-in-one, with Bones & Chews Dental Sticks.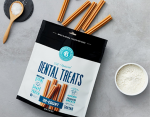 Made with an all-natural chicken flavor, this two-in-one treat helps clean dogs' teeth and freshen breath, all while satisfying the canine instinct to chew. Its chewy texture helps scrub off plaque and tartar buildup, while your dog stays busy chewing away.
The unique six-point shape means more tartar-scraping tips to reach even those back teeth, supporting a cleaner mouth and fresher breath. These easily digestible treats do not contain any added sugar or artificial colors, flavors or preservatives, so you can feel good about using them as your go-to dental treat. They are proudly and safely crafted in the USA using trusted ingredients from the USA and trusted sources around the world. Plus, they can be broken up to treat smaller breeds.
Key Benefits
Dental sticks have a chewy texture that helps clean teeth, freshen breath and support oral health while satisfying your dog's need to chew.
Unique six-point shape helps scrub tartar and fight plaque—even on hard-to-reach teeth—and provides a more substantial chewing factor for your pal.
Made with an all-natural chicken flavor dogs find irresistible, so they'll love chewing on this dental stick every time.
Zero added sugars—just easily digestible ingredients that are easy on dogs' stomachs. Give them whole or break them up for smaller dogs.
Does not contain artificial colors, flavors or preservatives and is proudly crafted in the USA with ingredients sourced from trusted suppliers around the world.
Priced at $9.99 Free one-two day shipping with orders over $49.
Hill's Prescription Diet t/d Dental Care Chicken Flavor Small Bites Dry Dog Food
Originally published November 6, 2019. All Rights Reserved.