Affiliate notice: This posts contains affiliate links and Goodnewsforpets.com will be compensated  if you make a purchase after clicking on the links below. 
Taking care of our pet's teeth is just as important as taking care of our own teeth. It can sometimes be difficult to find products that satisfy your pet's dental needs. These are products from our partner Chewy that are VOHC-approved. For the full list of products with the VOHC seal, visit their website here.
Cat Dental Products: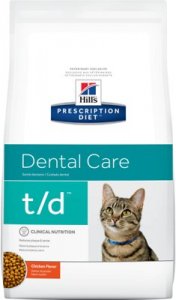 Hill's Prescription Diet Feline This is a great way to intermix dental care into your cat's eating habits. This formula is designed to clean the tooth surface while reducing plaque, stain, and tartar build-up. Additionally, it fights bacteria-laden plaque to promote overall health and reduces bad breath. The best part is your kitten will love how it tastes! This item requires veterinary authorization.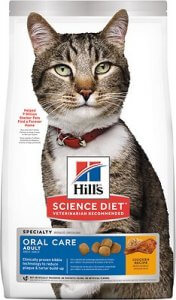 Hill's Science Diet Adult Oral Care Dry Cat Food  Similar to the Prescription Diet, this Science Diet is specially designed to improve your cat's dental health. This diet is made with whole ingredients such as savory chicken while also working to freshen your cat's breath. It's formulated specifically for adult cats to help provide protection from tartar and plaque, contributing to a lifetime of health and happiness.
Dog Dental Products: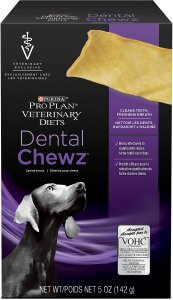 Purina Pro Plan Veterinary Diets Dental Chewz Canine Treats  What's better than giving your dog a treat? These Dental Chewz are an enjoyable treat for your dog that delivers proven dental benefits. These beefhide strips are low in fat and high in protein and are easy to digest for your pup. This is a perfect way to maintain good oral hygiene in between brushings and is an enjoyable experience for everyone!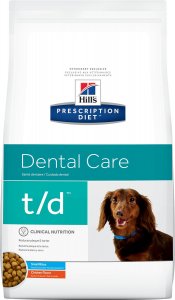 Hill's Prescription Diet Canine: Small Bites  For smaller dogs, this is a great product to improve your pup's dental health. This food is designed in a unique kibble shape and size to help assist in cleaning the tooth surface by scrubbing away plaque in the mouth to promote better health. This product does require your veterinarian's authorization which can be provided during checkout.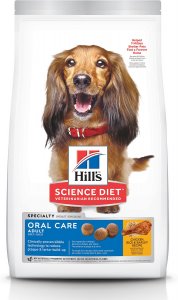 Hill's Science Diet Adult Oral Care Dry Dog Food  This dry dog food is designed to provide your dog with precise nutrition for a healthy lifestyle. The recipe is instructed to give your pup wholesome ingredients while also reducing plaque and tartar buildup and freshening his/her breath. It contains antioxidants and vitamins E and C all work together to support a healthy immune system.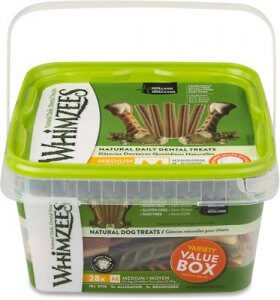 WHIMZEES Dental Dog Treats  More dog treats to help your dog's smile! These treats are so tasty and are also vegetarian and gluten-free for any pups who may have gluten intolerance or food sensitivities. The knobby shape of the treats ensures proper blood flow through the gums while also preventing bad breath. Additionally, these treats are produced sustainably with no artificial ingredients, colors, flavors or preservatives or GMOs, gluten, or meat. The best part is they are low in fat and includes fiber to promote regularity in digestive health.
Updated from an earlier post.