The top 20 finalists for America's Favorite Veterinarian (AFV) were announced during the American Veterinary Medical Foundation's (AVMF) anniversary celebration held at the John F. Kennedy Presidential Library and Museum. Voting is now open to the public at www.avmf.org/afv.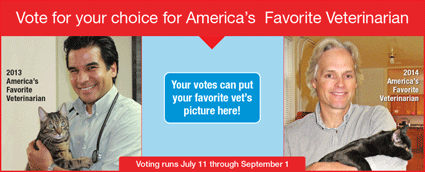 "We launched America's Favorite Veterinarian in 2013 during the AVMF's 50th anniversary to celebrate the special relationship between veterinarians and their communities throughout history," said Ginger Brainard, Ph.D., chair of the AFVcommittee, AVMF secretary and past president of the Auxiliary to the American Veterinary Medical Association.
"While veterinary medicine has changed dramatically over the years, veterinarians are still protecting the health of the family pet, safeguarding our food supply and making scientific discoveries that benefit both people and animals," Brainard said.
The 20 finalists were selected from 500 nominees. The judging committee was comprised of animal health industry and association leaders as well as bloggers. Nominees were evaluated on their community involvement, ethical behavior, passion for the profession and their connections to pets and their owners.
Inspired by the nominees' compassion and extraordinary lengths taken to improve the health and welfare of animals and people, the AVMF has encouraged each nominee to enroll in the Veterinary Care Charitable Fund (VCCF). The VCCF is a unique partnership between the animal-loving public and members of the veterinary profession. Existing clients can make tax-deductible donations that can be used to help families and individuals during a time of crisis.  The many animals and people helped by this fund include:
Service dogs assisting disabled military veterans
Active and retired service dogs
Low-income senior citizens with pets
Injured domestic animals rescued by Good Samaritans and first responders
Animals rescued from abuse and neglect
Neighbors and veterinary clients experiencing a crisis
"Each nominee's story is unique and compelling," said Dr. John Brooks, chair of the AVMF board. It is the public who will decide America's Favorite Veterinarian. We hope everyone takes a few minutes to read these remarkable stories and vote for their choice for the next America's Favorite Veterinarian at www.avmf.org/afv and contribute to their Veterinary Care Charitable Fund so they can help as many animals as possible.
This year's top 20 finalists, from California to West Virgina, are:
Dr. Gary Richter –Montclair Veterinary Hospital, Oakland, Calif.
Dr. Monica Rudiger – Nine Lives Foundation, Redwood City, Calif.
Dr. Kristen Cooke – University of Florida, Small Animal Hospital – Gainesville, Fla.
Dr. Christy Layton – Timberlane Pet Hospital and Resort — Plant City, Fla.
Dr. LaShonn McNair – Links of Love Veterinary Clinic — Homestead, Fla.
Dr. Mitsie Vargas – Orchid Springs Animal Hospital, Winter Haven, Fla.
Dr. Duffy Jones – Peachtree Hill Animal Hospital, Atlanta, Ga.
Dr. Jerry Klein – Chicago Veterinary Emergency and Specialty Clinic, Chicago, Ill.
Dr. Natalie Marks – Blum Animal Hospital, Chicago, Ill.
Dr. Tina Roggenbeck – Veterinary Health Center, Saginaw, Mich.
Dr. Raeyna Longtin –True Companions Vet Van, Cottage Grove, Minn.
Dr. Stacey Randall – Bienville Animal Medical Center, Ocean Springs, Miss.
Dr. Marcy Hammerle – The Pet Doctor, O'Fallon, Mo.
Dr. Page Wages – CareFirst Animal Hospital, Raleigh, N.C.
Dr. Lisa Aumiller – HousePaws Mobile Veterinary Service, Mount Laurel, N.J.
Dr. Dustin Brown – Animal Medical Center, Midwest City, Okla.
Dr. Emilio DeBess –  Milwaukie Animal Clinic, Milwaukie, Ore.
Dr. Chad Harris – Austin Animal Hospital, Austin, Texas
Dr. James Radcliffe – Town and Country Animal Hospital, Wheeling, W.V.
Dr. Pat Warpinski – The Animal House, Green Bay, Wis.
America's Favorite Veterinarian will be announced in September 2015 on theAmerica's Favorite Veterinarian website. The winner will receive a $500 cash prize, a trip to the 2016 AVMA convention in San Antonio, a year feature on the AVMF website and a community celebration at his or her clinic for staff and clients. In addition, the nominator of the selected veterinarian will receive a special "pet lovers" gift basket.
The American Veterinary Medical Foundation (AVMF) is the charitable arm of the American Veterinary Medical Association (AVMA).  For more than 50 years, the AVMF has been dedicated to embracing and advancing the well-being and medical care of animals. Charitable contributions and support to the Foundation help veterinarians care for animals. Initiatives include: humane outreach-animal welfare, education and public awareness, animal health research support, student enhancement and support of the American Veterinary Medical Association and its initiatives. The AVMF, a four-time four-star rated nonprofit by Charity Navigator, has awarded more than $10 million in the last decade.
# # #