Megan Peters is an award-winning photographer, and owner of August Light Studio based in the Kansas City Crossroads Arts District.
In 2015, her work photographing survivors of domestic violence was featured in its first gallery show, with all the proceeds being donated to the Willow Center, a domestic violence shelter in Lawrence, Kansas, for which Megan was previously a children's advocate. Megan was named Artist of the Month by the South Mass Street Art Guild twice for this project.
In late 2016, Megan traveled to Greece to photograph the Be Sinor – Sinatex Center, a refugee camp for Syrians fleeing civil war. Megan's focus was on capturing the educational center that was created by volunteers in order to provide the camp's children and adults a place to learn and have some sort of normalcy in their unimaginable situation.
Photos from this trip were on display at First Friday in Kansas City in September 2017, with all proceeds from the show donated to Be-Sinor and the local organization KC for Refugees.
Megan is also a writer, and has been documenting her life on her blog, Crazy Bananas, which was created in 2004. Her writing has been featured on Scary Mommy and the Kansas City Moms Blog. Other features include Pixelkin.org, BlogHer, BlogHerTech, Altitude Design Summit and Design for MiniKind.
Megan is a regular contributor to segments on parenting and photography for several Kansas City-based television shows, such as the Fox4 Morning Show, Better Kansas City, and Kansas City Live.
In addition to her work, Megan is also an activist and advocate. She is the Chair of Education First Shawnee Mission (EFSM), a non-profit political action committee dedicated to getting pro-public education candidates elected to the Shawnee Mission School Board and the Kansas Legislature. EFSM was founded in February 2017, and consists of moms from the Shawnee Mission School District.
Megan is also the Congressional District Leader for Kansas District 3 for the ONE Organization. ONE is a global movement of over 9 million people who are working to eradicate extreme poverty and preventable disease.
Megan has a Bachelor's Degree in Journalism from the University of Kansas.
Megan Peters Social Media
Instagram – @crazy_bananas
Twitter – @crazybananas
Facebook – Crazy Bananas Creative Studio
August Light Studio Social Media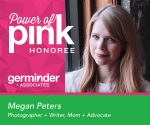 Instagram – @augustlightstudio
Twitter – @auglightstudio
Facebook – August Light Studio