The Creation and Launch of Goodnewsforpets.com 
Meet the M, as in the M in GDM News, the core team of Germinder, Davis* and Manning that created and launched Goodnewsforpets.com. As we come to the close of Goodnewsforpets' 20th Anniversary Celebration, we snagged an interview with Manning. Shelli Manning describes herself as a communications advisor, brand ambassador, digital marketing strategist and project manager. I say she's all that and more. She's an extraordinary person, someone you want by your side and on your team. She makes it happen. She does indeed move mountains, and always with a smile.  – Lea-Ann Germinder
 Can you first tell us the story of how you decided to enter the field of public relations?
I can't remember a time when I wasn't interested in inquiring about everything, talking with people or researching at the library (now through Google) and telling stories through words or pictures in the high school newsletter and beyond. I began my communication studies at Dodge City Community College, where I focused on radio and television production. My internships and classwork involved local radio station production, DJing for the campus radio station, and editing and typesetting for a small newspaper.
As I moved into photography for the college newspaper my second year and found myself covering campus activities and a fashion show from the front row, I discovered the print angle was more my style. When I transferred to Fort Hays State University, I immersed myself in journalism and public relations classes and projects, which I thoroughly enjoyed, as well as working as ad manager and reporter for the college newspaper, The Leader. When I graduated, I wanted to work for an agency. It took several years, but I finally landed a job at my first public relations agency in Kansas City.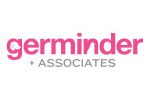 At Germinder + Associates you handled traditional clients and the launch of Goodnewsforpets.com. You've had a successful career in both digital content and traditional public relations. Which do you like best and why? 
While I like learning evolving technology platforms and leveraging them as effective channels to carry content and influence audience journeys, I favor the process of collaborating with subject matter experts and creating content to champion brands and causes. I love working with teams to pull awareness campaigns together, whether it's for internal culture change initiatives, or external campaigns involving media relations, digital content, training materials, events, etc.
Some of my favorite work has been supporting spokespeople by providing media relations training, securing interviews, and reporting to clients on increased awareness.

Goodnewsforpets.com has won many awards right from the beginning, and you played a significant role in launching the site in 2000. What was your role?
As supervisor of accounts and web-based services, I worked with my colleague Amy Davis, and digital vendors. It was exciting to work alongside Amy, who is a brilliant writer and strategist, to take your forward-thinking, well-rounded ideas and run with them to shape a new interactive site to serve pet media, industry professionals, and pet owners.
While Amy was underway writing content, I worked closely with Yulan Studio to structure the site and load it with content in time for launch at the Western Veterinary Conference. We tested and tweaked up until the day before the conference. Everyone's commitment to your vision shined through as the look, tone, and all of the mechanics came together when Yulan turned the site live during the opening of the physical newsroom at the conference.
From Concept to Launch
Taking a concept to full execution is not an easy task. How did you develop your ideas for the site from the initial concept?
It was definitely a team effort. So many great ideas coming from you, Amy and Yulan Studio once they got involved, and a lot of potential content from the start was an awesome challenge to have. There was so much going on that we wanted to talk about and offer in one place, and we wanted to make the site interactive as well, so figuring out how to tame that into a digital news center seemed huge.
It all came together beautifully because of the talented team I had access to. From an outline, Yulan Studio provided a wireframe to plan how we would take our audiences on a journey to discover exclusive news published by goodnewsforpets.com, other pet news, new books by pet authors and a weekly column by pet journalist, Steve Dale. We also simultaneously worked with them to create the brand.
I remember when coming up with the logo, it was important to represent a variety of pets. A few conversations and approvals later, we landed on a logo that did just that, a color scheme and skeleton for the content including a "Pet Question" that I see you still have, and links out to animal health organizations including the Cat Writers' Association which is still there. The layout we landed on to carry our different areas of interest consisted of boxes with different colored header bars with the main news in the center.
Planning ahead for post-launch, we relied on Yulan for training to learn how to update the site ourselves since fresh content creation would be driven by weekly email newsletter updates for subscribers.
 What were your favorite parts about the launch?
It was a first-time experience for me to go live at an event, and super exciting to attend the conference and work in the physical newsroom, answer any questions about our new online news site, and start monitoring traffic and reactions to the site. It was also new to me to unveil a news site that we would need to feed so actively; something that immediately extended beyond the launch because pet media and others would be submitting content and/or subscribing for updates.
 What were the biggest challenges in 2000 and why?
One challenge which is always a challenge for digital — coming up with the right pricing for sponsors and organizations who wanted to have content on the site or have us write press releases for them. We settled on basing it on a combination of wire service pricing and our traditional services, which seemed reasonable since the Internet was becoming a more widely used source for journalists to research articles and develop story ideas.
The second challenge was deciding on the editorial content of the site, filtering all the news that was out there and remaining true to our core mission to deliver the "good news" that we curated. We did grant our well-known guest columnists like Steve Dale and later Mordecai Siegal  autonomy on their columns of course, but we quickly found out we could not be all things to all people.
 Measurement And Monitoring Then And Now
Were there monitoring and measurement tasks involved with the launch?
Yes, we had sponsors, organizations with virtual newsrooms, non-profit organizations we linked to, and contributors we wanted to share results with, so we had monitoring set up from day one. Within a month to six weeks following launch I pulled web results together showing how many hits the site had, how people entered the site, what pages were visited, for how long, how many visitors bookmarked pages, and other statistics to go along with a summary highlighting web results along with email newsletter reach, media placements and future plans.
Is that the process you still use today and why?
Yes, pulling website statistics with a few charts and graphs, and always summarizing results to cull insights for stakeholders is still the base, although now social media is a bigger part of the mix, so there are more sources to analyze into one report. It's helpful to provide a quick read for stakeholders and full details they can pore over if and when they wish.
When the site was launched 20 years ago at the Western Veterinary Conference, the agency handled both the online and onsite newsroom. Are there any interesting insights to handling both?
It was another first experience for me. I had handled one- to two-hour news conferences but this was a different animal in a city (Las Vegas) with many conferences and press events going on at the same time. The traffic was sporadic—sometimes super heavy and sometimes light enough to have lunch or take turns looking around the conference. Being there with you as the PR pro and the extra staff you hired to manage it was a great experience. It was good to learn from your expertise in setting up the newsroom and tearing it down and how to manage a few unforeseen situations when people tried to get in with questionable press credentials.

Goodnewsforpets.com is now celebrating its 20thanniversary. What advice would you give to someone launching a site today?
Congratulations on the 20th anniversary! It's looking good. I think the same still holds true for upfront planning and getting all of the ideas in the site owner's head onto paper and a wireframe and coming to a firm agreement on the structure of the site. Responsive design platforms are more fluid and easier to change around than the fixed design we started with, but the more you can iron out in advance will save time and money in the end.
Keeping content fresh and searchable is also as important as ever. Search engines still take notice of changes to your content.
Now there's more opportunity to repurpose and cross-promote content through blogs, social media and other avenues. I suggest taking advantage of as many channels as possible.
If you have a video, feature it on YouTube as well as your website, for example. You never know where your potential audience might find you. At the same time, if you don't get any traction after a time on one of your social media channels such as Twitter, and you don't want to spend part of your budget trying to promote your content, you may want to turn that channel off for a while and focus all of your efforts on the channels that are getting viewed.
 What can you tell us about your work on Goodnewsforpets.com that applies to what you are doing now?  
The opportunity to work on a site that was so dynamic gave me a unique perspective on how many opportunities there are to draw people in, keep them there, keep them coming back, and create dialogue. For external and internal digital strategy, I'm always thinking through the underlying ways of finding sites through search, and providing compelling and helpful content once visitors gets there.
From the meta tags to the calls to action and everything in between, every image and word matters. And all hands on deck when it comes time for testing and troubleshooting sites before launch or relaunch is a key component for planning so you have time for tweaks and launching on time.
 Anything else you would like to add?
To see how goodnewsforpets.com has evolved 20 years later, I'm proud to have a small hand in the start of it. It's a bright spot in 2020, and one of the best experiences I've had from start to launch, ongoing updates, promotions, and measuring and reporting results. It was great working with you, one of my favorite bosses in Kansas City only next to Martin Mini, chief marketing officer of the Kansas City Area Development Council.
Everything we did was on point and innovative. You help people to see and reach their potential. It is greatly appreciated! Thank you for the opportunity to be involved and to go down memory lane.
Wowsa! Thank you Shelli. Goodnewsforpets would not have come to fruition without you. Thank you for your work on the site and all your other great work and best to you as well! – Lea-Ann Germinder, Editor + Publisher.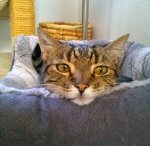 Shelli's Cat Simon
 *Amy Davis is the "D" in GDM News. Another extraordinary talent, I was fortunate to hire her at three different agencies including for the launch of Goodnewsforpets.com.  She holds her bachelor's degree in magazine journalism from the University of Columbia, Missouri and is now a paralegal. Her interview is next up! – Lea-Ann Germinder, Editor + Publisher