Germinder20 Power of Pink Honoree, Former Germinder + Associates and Goodnewsforpets Team Member Shares Her Story
Founder, entrepreneur and working mom Lane Odle runs Dotted Line Marketing, a successful six-year-strong marketing firm that fills in the gaps for small businesses in Kansas City, Missouri that have a one to two person marketing department, or none at all! Lane not only filled in the gaps when she worked at Germinder + Associates on animal health accounts and Goodnewsforpets.com, but always brought an attention to detail and fresh approach that helped us succeed. That's why she's been named the next Germinder20 Power of Pink Honoree, and why we have no doubt she will continue to succeed with her own business. Here's her story….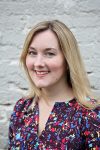 How did you decide to go into public relations and marketing?
As a little girl, I wanted to be everything from a waitress to a fashion designer to an interior decorator. But, at some point in high school, there was a movie out called "Picture Perfect" starring Jennifer Aniston who played an advertising executive in New York City. That was what piqued my interest about a career in advertising during my teen years.
When I went to college, I started a business degree with an emphasis in marketing. A friend, who lived on my floor freshman year, was in journalism. I was talking to her about what her curriculum was like and thought, "That's actually what I wanted to do, because it had more of the public relations and advertising." I do a little bit of public relations now, but in my business, I primarily focus on marketing and do a lot of content creation.
What was your first job in marketing and what did you like about it?
My first job in marketing was at Burns & McDonnell, which is an engineering firm in Kansas City. I was a marketing coordinator and did proposals, events and presentations. I was responsible for supporting the energy department of that company. I liked the people. I had a really fantastic boss who was just lovely and supportive and great to work with and then above her, there was a man that managed our team, who also did a lot of the business development. He was just great – very supportive and encouraging. I enjoyed that. We also did some event planning in fun locations that was connected to conferences. I planned one in Orlando and remember it was a really fun project to do as this 22-year-old kid. So yeah, I definitely enjoyed it. I got to learn quite a bit there.
Do you like to travel or was it the event planning that you liked?
I like to travel a lot, so event planning in conjunction with that was perfect. After putting it together, I actually got to attend and work the event. We had guests go to a Cirque du Soleil show, which was big at the time, and then, we had dinner at House of Blues. I remember I researched restaurants for days, and my manager kept saying the restaurant needs to be closer to where the event was — I learned a lot about logistics!
We met when you worked at Germinder + Associates. I was always impressed with your attention to detail. Can you talk about your process and how you're able to manage all of the details so efficiently?
I take a lot of notes. Any time I sit down to a meeting, I have a notebook in hand, and I'm taking copious notes. I have a tracking document where I keep sort of the status of where everything is on my projects, because otherwise, I would be constantly spending my time searching through emails trying to remember where it last landed. I also create a lot of schedules, and then within the schedule, I keep a note of where it stands and what needs to happen next. It's a lot of giving myself reminders basically and tracking through my calendar.
Does organizing come naturally to you?
It's really not in my nature, but more of a learned skill for me! As a kid, I was very imaginative and kind of flighty. My parents were always worried about how I would end up in the world, because I got lost easily.
In middle school, the teachers gave us all planners. A light bulb went off, "Oh, okay I don't have to remember all these details in my brain. If I have them written down I can sort of manage them and keep track of where everything is and when items are due." That was sort of a good turning point where things clicked for me.
Have you found any particular programs that have also worked well for you or do you still find yourself taking notes and then transferring them to programs?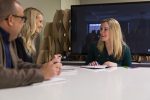 Sometimes I still take paper notes. For larger projects that have a lot of different components or coordination with a variety of people, I'll create a schedule in InDesign and within that schedule; I will keep notes electronically about where the project stands.
For personal projects I use Google Keep where you can create a checklist. I use that for groceries or if I'm getting ready to go on a trip. It helps me manage all the things I need to track without having to remember where I wrote it down. It's all held electronically in the app.
Another one of your strengths is distilling down the big picture into actionable ideas. Tell us about your process.
A big key is listening. When it comes to selling, a lot of people look for someone who is really talkative or who is charming. But, being able to listen to your clients really well and get to the root of their problems and then come up with a solution is invaluable. That's what people need.
I'm also naturally good at taking a lot of data and seeing patterns and trends and narrowing it down to the things that are the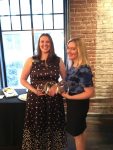 largest selling points or the items that really matter.
For example, I work with a lot of small clients and when people think of marketing they think, "Oh, we need to do this big splashy thing." That's great, but if you're small and you have limited resources, you have to be really smart about how you spend time and money. Whittling down your strategies to a few things you can do well on a consistent basis is the best approach.
You can start focusing on making those things happen instead of diverting your energy to something that might not be as effective, like a billboard. You start thinking about your real issue, which might be that you're having trouble reaching out to clients consistently.
In that case, moving to an email campaign is a better use of money and it connects to where your target audience is. I think the other piece of that is understanding who the target audience is, where they are and what they're interested in and then, sort of putting your efforts there.
You selected Sunflower House to donation your Germinder20 Honoree donation. Can you tell us about them?
Sunflower House is a non-residential children's advocacy and abuse prevention center serving Johnson and Wyandotte counties. The agency addresses abuse and neglect through a comprehensive approach, engaging children, parents, child-serving professionals and the community. Sunflower House is committed to helping victims and their families make a full recovery following an event by offering therapy through their partnership with PACES.
Sunflower House provides a much-needed service locally, and unfortunately, the demand for their services increases every year. My husband and I have supported Sunflower House for the last several years. This organization is incredibly important to us, as they support children and families when they are at their most vulnerable.
As a fellow entrepreneur, and one who knows your work, I was absolutely thrilled that you launched your own company. So what made you decide to launch Dotted Line Marketing?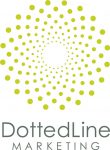 Aside from working at Germinder + Associates which was an agency, I had worked at mostly small companies. Burns & McDonnell is the largest company I worked for, and after that, all the companies were small. We would occasionally bring in larger agencies to do logos or bigger projects, and it was great. The problem was when they would come in, what I really often needed was someone to help me with the day-to-day stuff. I wanted someone that understood strategy and could also help execute it.
I felt there was a demand for someone who could do both. A partner that could come up with a plan and strategy, but also still help me write the emails or do the social media posts. I'd had that idea sort of floating around for a little while.
Several years ago, I went to an underground supper club in Kansas City and sat across from some ladies at the event. I later ran into them again at a pop-up dinner, and they asked me if I ever did freelance marketing, and I said, "Actually, I have this idea for a business." They were my first clients. After working with those two interior designers, I thought, "okay, this might work."
I even called you, Lea-Ann. (I was thrilled when you did!) I called and asked you, "What do you think about starting my own business?" I had a list of questions for you about what it's like and that sort of prompted it. Then before I had my daughter, I started the process of getting my ducks in a row to do it. I took a free online class through the State of Kansas. They have a small business association. I made a plan and then, decided to start.
There were a lot of conversations before beginning, but always at the root of it was this idea that there were small businesses that had either one or two people in their marketing department, or they didn't have any, and they needed these kinds of services. That's why I decided to start it.
How has the work evolved since you started your company six years ago?
Since I started the company in 2012, the work has changed quite a bit. When I first began, I actually told my employers that I was creating my own firm, and they became my first client. Because we were a small company, they needed some help in the interim, while they were looking for somebody else to fill my spot. Word spread quickly, and I added a few more clients to my roster.
For the first few years, I did more contract project work to get my foot in the door and then, as the relationships developed, the work evolved. In the last several years, I've found my sweet spot and what I think is the most effective for my clients. Essentially, we're doing ongoing, consistent marketing. That is the hardest thing for most people to do. It's easier to come up with the ideas or do one-offs, but it's really hard to get a blog post up every week or do consistent social media for example.
I have five clients right now and do a lot of content development. But then, I also do some special one-off projects. I just wrapped up an event for a client where we invited their clients and had some speakers come in. It's an intimate event that gives them the opportunity to be a thought leader and position themselves to their clients in a different way.
I also have helped several clients with their sales process. Together, we look at what they're currently doing and figuring out a way to streamline it. We put targeted, template emails in place that can be easily customized, so outreach is easier.
Can you tell us how you balance the needs of a mom and running a business? You got organized before you had your daughter for example!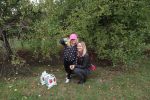 She was sort of the jumping off point! When I was pregnant with her I started to talk to my husband more and more about starting a business. I was nervous, but had been getting my ducks in a row – researching what it would take, crunching numbers and writing a business plan.
I think anyone who starts his or her own business is very nervous, and my husband kept saying, "Lane, you'll just find another job. If this doesn't work out, you'll find something else to do." He supported me in making this leap, so even though it was intimidating, it was great to know he was on board. It also helped that I had done the legwork and thought about how my business could be different.
For moms starting their own business, the first thing I would recommend is getting the right amount of help — that might mean having your child in set hours of daycare or having a nanny. Carving out uninterrupted, dedicated time to work is so important. It took me a while to get there, because I didn't know how to staff myself in the beginning very well. I didn't always know how much business I had coming.
I also didn't get enough help because like a lot of moms who strike out on their own, I didn't think I needed it. We have a tendency to think, particularly with babies, "Well, I can just fit the work in." On some days you can, but anyone who has ever had a newborn or any new baby knows that they don't always subscribe to your schedule. They have days where they don't sleep and don't care that you have a deadline.
The other advice I would give is to set boundaries. When I'm booking meetings, I give my actual, real available time, not the time I wish I had to give. I try not to work that much when my daughter is at home. It's pretty rare now. When I didn't have enough childcare coverage, it happened a little bit more. But, I also give myself grace when it comes to working while she's at home. If she has a day out of school and I need to work, I will say, "Okay, watch this movie for a little bit, I'm going upstairs to work, and then, we're going to go to the park after that."
I think it's important that she knows that I work. I don't want to misrepresent to her what working is like. It takes time and dedication. That being said, we do get to do things together that we would not be able to, if I was in a traditional job. It would be a lot harder.
That's one of the nice things about the ongoing work I do with my clients. I know for the most part what to expect, in terms of workload, throughout the year. There are still months that I'm surprised, but for the most part, I have a pretty good idea.
What's the biggest challenge you face as a young woman entrepreneur and what's the biggest opportunity?
The biggest challenge for me is finding the time to sell myself. I've been lucky over the years. Most of my business has come through referrals or relationships that I had built, but finding the time to work on my own marketing is challenging when my days are mostly spent working on my clients. I struggle with working in my business, instead of just on the business.
As far as the opportunity, I have found a niche that isn't really here in Kansas City. There aren't many people that I'm aware of that are doing this, that want this kind of work necessarily. I work mostly with business-to -business companies or service providers. They need and want help, so I think there is a lot of opportunity there.
What general advice would you give to anyone starting his or her own business?
There are a lot of advisors out there that say, "Just Start," and that's good advice. You should start. Don't get caught up in deciding if you should or shouldn't do it. But, when you do decide, really think about the logistics of starting a business, i.e. how you will sell yourself and how you will differentiate yourself before you get started. Make a list of the services you want to offer and really outline that in a simple business plan. Then, you can still pivot as your business grows, but you have a foundation – something to refer back to.
The reason I say that is I think one of the reasons that startups or entrepreneurs have a hard time taking off is they tend to pivot too quickly, and then, their brand or company offerings can become really confusing to clients or potential buyers.
Also, by nature, most entrepreneurs tend to be idea generators. I've seen people just generating idea after idea, and it's really hard to launch and maintain all those projects well. Pick out just a few ideas and develop those. Make sure they're in a good place before you start adding other things.
Particularly, when you're starting, you most likely don't have a large staff, so you don't want to spread yourself too thin. If you're doing everything, you're not doing anything really well. So, I would say focus is incredibly important.
Is there anything else you'd like to add in terms of what you'd like to say about your business and what kind of message you want to get out there?
If you are going to start a business, love what you do. You have days or weeks where it's hard or you're overwhelmed, but I wouldn't trade this for anything. I love the flexibility and like being able to directly see a connection to my work and what I earn.
I also really love seeing the differences in the companies I've worked for. Those I've partnered with the longest have seen growth. In fact, some were laying off staff when we began. But, over the last couple of years, they've just grown and grown! I'm a small part of that, but it's really exciting to see those kinds of changes for the people you work with. It is incredibly rewarding.
Thanks for your contributions to Germinder + Associates Lane and congratulations on being a Germinder20 Power of Pink Honoree! To connect with Lane Odle, visit:
http://www.dottedlinemarketing.com/
https://www.instagram.com/dottedlinemarketing/
https://www.facebook.com/DottedLineMarketing/
https://www.linkedin.com/company/dotted-line-marketing