Julie Lux, former editor of Goodnewsforpets.com, storyteller, video producer and dog lover extraordinaire, is the 10th Germinder20 Power of Pink Honoree. Lux has a successful communications career that spans over three decades – from broadcast talent to agency executive to industry comms leader back to agency executive. During that time she has pursued her dual passion in the dog world – showing, breeding and championing Dalmatians, American foxhounds and her beloved Beagles.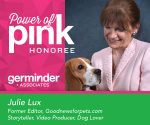 You have two passions that have led to success in two arenas – communications and dogs – and you've managed to combine the two. Let's start with communications. What interested you in the field?
My interest in broadcasting started early. My cousin Pete and I had an old tape recorder that belonged to our Aunt Julia and we would record pretend radio shows on it. There was a local noontime show in Kansas City on WDAF-TV hosted by a woman named Betty Hayes that I loved to watch growing up. Communications in general came naturally to me. I've liked to write as long as I can remember and I took Journalism in high school and studied Radio, TV, Film at K.U. – including a semester as a D.J. on the campus radio station. My shift started at 7 a.m. on Saturday mornings! However, my original goal was to be a radio sports reporter. I got into television by the "back door" starting out as Promotion Manager at KSHB-TV in Kansas City when it was an independent station. After a few years, and a promotion to Program Manager, I realized that I didn't want to "grow up to be a TV station general manager." When the opportunity to host AM Live came up, it was a dream come true. And, maybe in some ways meant to be, the kitchen we used on AM Live was originally built for – The Betty Hayes Show on WDAF!
Were you always interested in broadcasting? What appealed to you about it?
What's always appealed to me is providing information that would be useful to people in their daily lives. On AM Live, we focused a lot on "news you can use" such as cooking, health and exercise, gardening, movie reviews, local events – we had a child psychologist who would come on and take questions from viewers on raising children –we even did a series on dog training! We also liked to focus on entertaining people. We did a lot of celebrity interviews. If anyone was coming through K.C., they were on AM Live. A particular favorite of mine was the actress, Patty Duke. I grew up watching her TV show and to meet her was especially memorable. She was a lovely person, too! Also, Tommy Tune, the dancer. I danced from the time I was three-years-old and when we were waiting to go on air, I said to Tommy, "I'm an old dancer." He patted my arm and replied, "So am I."
I have so many wonderful stories – I hope the audience enjoyed watching the show as much as we did putting in on the air. I've also had the pleasure of working with celebrities through my work in human and animal health and have always approached it with the same goal – to offer people useful information to help inform and if possible entertain.
You are a master of successful transitions and a woman of accomplishments who manages all with grace. How did you manage all these successful transitions from broadcast talent to agency executive to industry and now back to the agency world?
I have always tried to follow a couple of simple actions (I don't want to say rules). First, if something interests me, I volunteer to do it. In TV, I've done everything from pulling cable, to writing scripts, to working behind the scenes and on-camera. I would never have had the opportunities I've been fortunate to have if I hadn't volunteered. Second, and this really goes hand-in-hand with the first, I asked for things I wanted. I "asked for the job". I always tell students that they'll progress much farther if they let people know their goals. In the business world, senior leaders are too busy to think much about how and who to promote – let people know your goals and be willing to put in the work to achieve them.
Let's talk about your other passion, showing dogs. How did that come about? Did it start during the KSHB period?
Such a long story! It did start while I was at KSHB, but goes back a long way. I always loved dogs, but my parents were NOT dog people. The closest I came to having a dog as a kid was my aunt's Boston terrier. Ron, my husband, grew up with all kinds of animals and we've had dogs since we got married. However, I didn't even know that dog shows existed until we took our first Dalmatian, Archie Goodwin, to obedience school. We started going to dog shows to watch some of our classmates show their dogs in Obedience competition and wandered over to the conformation ring. We had no idea what we were watching!!
We started having representatives from the Heart of America Kennel Club on AM Live to promote their annual dog show. Then I happened to mention to the president of the local Dalmatian club that Ron and I were thinking about getting a show dog – at that point, we hadn't even decided if we'd get a Dalmatian. A few weeks later, she called me about a litter, we met Gucci when he was six-weeks old and the rest truly is history. That was 1990.
What is it that you like about the dog world that you want to share with the Goodnewsforpets community?
The dog showing – and hobby breeding – community gets a "bad rap" in many venues these days. As I learned as public relations officer for the Dalmatian Club of America, it's impossible to explain a responsible breeder in a sound bite. Hobby breeders are dedicated to raising healthy, well-tempered dogs for show, but mainly to enrich the lives of the people who own and love them. Dog showing can be a wonderful family activity and it's given me the opportunity to go places and meet people I never would have if it weren't for showing. Best of all, it's something I can do with my dogs. I cannot think of a better way to spend a day than at a show with one of our Beagles. As I write, Drew, the rock star puppy, and I are at the hotel waiting to go back and show again later this afternoon. That's pretty close to perfect day for me. (If only Mr. Ron, my long-suffering husband, were here. We don't have a dog sitter right now, so he's home taking care of the rest of The Thundering Herd.)
You started showing Dalmatians. Can you tell us what you like about Dals and your first dog Gucci?
I always say that I let Gucci (CH Deluxe High Fashion Dots) down in the ring many more times than he let me down. He was a wonderful show dog but also a wonderful housedog. He slept in our bed nearly every night for the 14 years we were fortunate enough to have Gucci in our lives.
To me, Dalmatians are the quintessential companion animal. They love you and want to be with you 24/7. As pack dogs, the Beagles love you, but they also enjoy their own company. (That's why many people have more than one Beagle.) Dalmatians do like other Dalmatians but they love to be with their people.
What piqued your interest in Foxhounds?
American foxhounds are my husband Ron's breed. The first time we went to Westminster to watch, Ron brought me to the American foxhound ring, I think there were three being shown, and told me that this was the breed he wanted. It took him two years to find Quincy (CH Winquest All American). That was 1995. Ron finished Quincy's championship and placed in the Hound Group many times. Of course, being a hound, Quincy could sometimes be stubborn. On those occasions, if he won Best of Breed, Ron would mysteriously change his clothes, so when it came time for the Hound Group, I'd have to take Quincy in because Ron wasn't dressed in his "show clothes".
That taught me a lot about American foxhounds, which helped me when I got my own foxhound, Victoria (CH Cedar Creek Golden Girl Deluxe). Victoria was my first Group-winning dog of any breed. American foxhounds are one of the best-kept secrets in dogs. They can be great pets for people who can deal with a larger dog. In my experience, once someone has an American foxhound they stay with that breed for a lifetime.
Now you are "just" showing Beagles, your beloved Drew. What is it about Beagles that appeals to you and the rest of America?
How can anyone resist the "soft, pleading expression" of a Beagle? I think I was fated to have Beagles. I've had a framed picture of a Beagle in my office since I started working many years ago. I just liked the picture but never gave it much thought until after we got our first Beagle, Lindsay Ann Lux, (CH Shaw's Deluxe Call to Glory) in 1997. One day, I looked at that picture and realized I'd loved them for years and it was just a matter of time before one came into our lives. Beagles are a good size for many people and families, they are generally a hardy breed – we just lost our Uno (CH Deluxe One in a Million), not the WKC Uno, earlier this year and he was just shy of 17 years of age.
Most Beagles are great with children and what's cuter than a kid with a Beagle? We've been breeding Beagles since 1999 and have bred a number of champions. But, even more important are the great friendships we've made through the people who've adopted our puppies and those we've met through showing.
Currently, two of the Deluxe Beagles, Drew and Jonathan, are being shown. Drew is the #1 Owner-Handled 15" Beagle in the U.S. Both boys are nationally ranked and we are excited to see everything these little boys will accomplish in the future.
You were a part of the communication team at Westminster Kennel Club Dog Show for a number of years. What was that like to be at the center of the communications team for one of the oldest and most prestigious dog shows in the world?
Well, I have you to thank for it, Lea-Ann. You introduced me to David Frei! The best part of working on the Westminster Kennel Club Dog Show team was working with David and the other amazingly talented individuals he brought together to support the more than 900 journalists from around the world who cover the show each year. I am proud to count David and many of those talented people my friends to this day.
You are an American Kennel Club judge in addition to showing dogs. Have you shown a dog at the Westminster Kennel Club Dog Show and have any moments to share? Do you think you will be back showing?
I've shown at WKC quite a few times over the years, the first time in 1993 with my first Dalmatian, Gucci. I've shown my own Dals and Beagles as well as a Whippet and a Boston terrier for friends. The only breed we've never shown at WKC was American foxhounds. And we should have! My last time in the ring at WKC was 2009. When it comes to showing at The Garden again, never say never. It will all depend on the judges (smile).
You were very supportive of the Goodnewsforpets.com site when it was launched and ultimately became the first editor. You still contribute from time to time. What did you and do you like most about the concept?
You were a pioneer in Internet communication, Lea-Ann, and I have the greatest respect for how you identified the potential of this new communications medium before most people. What I like most about Goodnewsforpets.com is the "good news" part of the name. Your site has been a trusted source of information for pet writers – and owners – for over 18 years.
You and I worked on so many other projects together independently and when you were Vice President at Germinder & Associates. You have always handled every client, every project with the greatest of grace and poise, and every issue with a calm approach. What can you attribute to your grace under pressure demeanor? Any tips of the trade to pass on to others entering the field?
I'm not sure that's always been the case, however, I genuinely love what I do and am grateful for the many wonderful experiences I've had, and continue to have, in my career. As to tips of the trade, I try to remember what I learned from the late Wayne Dyer, who said, "When you change the way you look at things, the things you look at change." Look for the positive in every situation and realize that, in most cases, things could be worse. Or, as my cousin Jim reminds me when I'm dealing with a particularly difficult PR situation, "If there weren't any crisis, companies wouldn't need PR people." And, don't be afraid to express your sense of humor. Many difficult situations can be diffused with humor.
After Germinder + Associates, you joined the corporate world. What did you enjoy most about that experience?
I joke that I had to go into pharma to make more money to support my dog habit, but seriously, I was so fortunate to hold positions on the communications teams at two major human pharmaceutical companies, Pharmacia and Schering-Plough. The best part of that experience was the incredibly talented people I had the privilege to work for and with. I learned so much from these great people and, like the WKC team, I am so grateful to keep in touch with many of my former colleagues and call them cherished friends. Now you are back in the agency world doing more great work and continuing to show dogs.
What do want to share with us about your work now?
In my current role with FLM Harvest, along with continuing to work in my "first love" companion animal health, I'm also supporting some of the agency's agriculture focused clients. This summer, for example, I've been to almond groves and grape orchards in California, corn and soybean fields in Indiana and Illinois and will be in a potato field in Washington state in a couple of weeks. I'm producing an online series, The Minute, for our client FMC and it's a fascinating experience. Farmers truly are among the unsung heroes of this country and seeing firsthand the dedication of these individuals have to feeding our country and the world is an incredible experience. I drive through a lot of farm country going to dog shows and I have a renewed appreciation for everything that goes into those fields we pass.
Is there anything else you would like to add?
Thank you for this recognition, Lea-Ann. It's my pleasure to know you and to have had the opportunity to work with you throughout the years. You know I'm one of your biggest fans and I admire and respect all that you've done with Goodnewsforpets.com. Happy 20th anniversary to Germinder + Associates! I'm proud to say that I was there when it started.