Yes, it is indeed a time of celebrations. This week may be our nation's birthday, but just a week ago today I was honored to receive the Makovsky Excellence in Mentoring Award presented by Ken Makovsky, Founder + Chief Executive Officer of Makovsky + Company  at the PRSA-NY Big Apple Gala.
The Big Apple awards celebrates the best public relations work from public relations professionals and introduces special award recipients. Makovsky agreed to continue the sponsorship of the legendary Dorf award as Philip Dorf was a mentor of Ken Makovsky's. Talk about paying it forward! That's something to celebrate!
July 1 is the anniversary of our parent company, Germinder + Associates, Inc. We are celebrating this year with a summer savings contest, the "Goodnewsforpets.com Purrfect Summer Savings, Goodies for You + A Shelter Too!" contest.  We're looking forward to celebrating all things cat this summer with the various partners in the contest — and awarding the prizes and helping a bit with shelters too!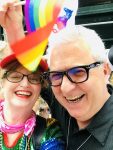 This coming Fourth of July we'll see plenty of parades, but there won't be a bigger parade than the WorldPride 2019 NYC parade anytime soon.  As a VMAE member and a longtime advocate of good news about veterinary medicine, I was thrilled to join Ralph Johnson, VMAE Chief Executive Officer and leaders of PrideVMC and they prepared to march. It was fun to join them in their preparations and celebrate how far PrideVMC has come. Yes, there is much to celebrate with them. Look for more coverage coming soon.
Finally, we come to celebration of the Fourth of July. Most pets are not comfortable with the noise of fireworks so hopefully you've got a plan well in place. Don't forget products like Comfort Zone pheromone products to keep your cat calm, and they've got canine products too. For beach time fun away from the Fireworks, we've found a fun new Chuckit! toy.  Most of all, celebrate the Fourth, and in the spirit of Pride, celebrate YOU!
Have a great week and a great holiday!
Lea-Ann Germinder