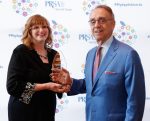 To view Ken Makovsky's introduction and Germinder's presentation with comments on mentoring click here: https://youtu.be/tbz7-HiqzNc
Lea-Ann Germinder, APR, Fellow, PRSA, editor and publisher of Goodnewsforpets.com, has been named the PRSA-NY Makovsky Excellence in Mentoring Honoree. Germinder was presented with the award June 24 from Ken Makovsky, president of Makovsky + Company at the PRSA-NY Big Apple Gala at the Mandarin Oriental Hotel, New York.
The Makovsky Excellence in Mentoring Award, which was formerly known as the Dorf Award in honor of Philip Dorf, honors individuals who lead, guide, and selflessly counsel and stimulate the careers of PR professionals. Candidates for the award must meet the following criteria:
Leadership in guiding and inspiring the careers of entry-level and other young PR professionals.
Demonstration of the highest standards of the profession in a selfless role as a mentor.
Service to young professionals beyond the scope of the nominee's professional duties.
In accepting the award, Germinder says,
"I am humbled to accept for doing something I love to do. The call at the Big Apple Gala for more diversity and inclusion in our profession is clear, and I accept that challenge through mentoring. I know there are very high standards to maintain, and I am committed to helping push the profession forward."
In her acceptance speech Germinder called for all levels of the profession to embrace mentoring through networking, reverse mentoring, cross-mentoring and sponsorships. The PRSA-NY chapter has a robust mentoring program and recently introduced a Senior Pros program that has broadened the mentoring discussion.
Leslie Gottlieb, PRSA-NY president says,
"Mentorship is something that is personally very important to me and with all the changes in our profession is more important than ever before. Mentoring helps make our profession thrive. We are very grateful to Ken Makovsky for his generous sponsorship of this important award. We are thrilled Lea-Ann Germinder, one of our past-presidents was named the first recipient. She embodies the spirit of the award and will help carry our mentoring program forward."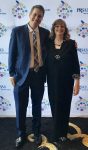 Natan Edelsburg, chief operating officer of MuckRack and district chair-elect of PRSA-Tri-State nominated Germinder for the award and says:
"Lea-Ann is constantly offering amazing mentorship to myself and others. Her mentorship has had a huge impact on my career. When I graduated from NYU and went into PRSA-NY, I was very unsure what it was going to be like. She treated me as an equal, made me feel wanted and that the ideas I had could make a difference. Later she recruited Al Chen and I to revitalize PRSA-Tristate. I've met some amazing people in addition to her as a result."
Watch the Natan Edelsburg mentorship Interview here: https://youtu.be/SgoJjFZD8ew
Germinder has been named a national Honoree for Enterprising Women and a Top 25 for Women Who Mean Business by the Kansas City Business Journal and the Kauffman Foundation. Germinder is also a member of IPRA, the New York Women in Communications, the Publicity Club, the Dog Writers Association, the Cat Writers Association, VMAE, Vet Partners, and WPIN.
She and her teams have won dozens of public relations awards including the PRSA Silver Anvil Award of Excellence and a VMX Bronze Vetty Award. Germinder is an accredited Fellow PRSA, a former national director of PRSA, a former national trustee of the PRSA Foundation and served as PRSA Midwest district chair, Tri-State chair-elect and president of the New York City and Kansas City chapters. She is a member of the PRSA Counselor's Academy and member of the PRSA-NY Past-Presidents Council.
Germinder earned a bachelor of Communication Arts degree from the University of Dayton. She is a PRSSA Champion and as a student was the PRSSA public relations director for the University of Dayton chapter.
In addition to publishing Goodnewsforpets.com, Germinder has provided public relations counsel to the veterinary and pet industry for decades. She has mentored individuals ranging from students to senior pros entering new careers and has spoken to many groups on a wide range of  issues.
Companies and organizations interesting in learning more can contact Germinder at lgerminder@germinder.com.