The giveaway is now closed. Thank you to all who entered!
Congrats to our Winners!
Rebecca Day from Portland, OR, whose donation will go to the Oregon Humane Society.
Faye Boss from Clifton, CO, whose donation will go to the Roice-Hurst Humane Society.
Carol McLaughlin from Croydon, PA, whose donation will go to the Women's Humane Society.
Mike Skrzypek from Howell, MI, whose donation will go to the SPCA Florida.
Each winner receives the exclusive sterling silver Goodnewsforpets™ Heart-Paw charm and a donation to the shelter or rescue of their choice!
As part of the 15th anniversary contest series, GoodNewsforPets.com partnered with kathy Ireland® Loved Ones on a December Giveaway of Four Dog Toys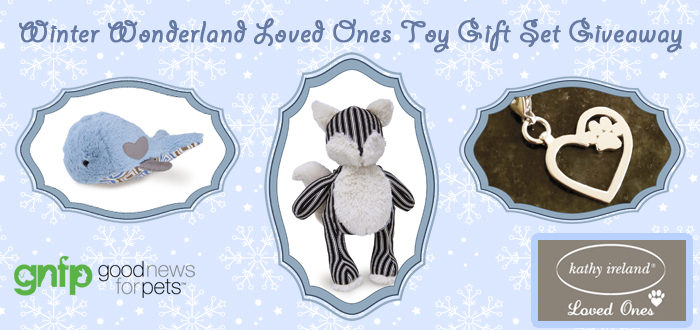 New York, NY. December 22, 2015 — With the holidays right around the corner and winter approaching, Goodnewsforpets.com, the pet and veterinary news source, is collaborating with kathy Ireland® Loved Ones on the launch of its 15th Anniversary Series December contest. Winners will receive a Winter Wonderland Loved Ones toy gift set and a monetary donation will be made to the shelter of their choice. The giveaway also includes the exclusive Goodnewsforpets.com sterling silver Heart-Paw charm designed by Elena Kriegner. The contest begins at midnight on December 9th and ends at midnight on December 30th, 2015. To enter the contest, visit online at here. The lucky winners will receive the four best-selling toys from her collection.
"Our pets are truly members of our family and we want these loved ones to know how important they are to us everyday," says Kathy Ireland.  "kathy ireland® Loved Ones was inspired by our own beloved pets.  Our product construction is very important.  Our offerings are longer lasting, better able to sustain family playtime as well as extra wear and tear."
The collection of Durable Dog Toys are overstuffed and made with an inner lining to withstand the heaviest chewers. The Durable Whale Dog Toy with Treat Pocket is featured in the giveaway package. This durable plush toy is made with a heart-shaped pocket for treats, as well as a squeaker for delightful engagement. Also included in the gift set is the Durable Fox Toy– a cute, rugged toy made with a cotton canvas. The third toy included in the Winter Wonderland Loved Ones toy gift set is the Crinkle Bunny Dog Toy. Made with a hidden crinkle material and long lasting canvas fabric, it is sure to entertain dogs for countless hours of playtime.
Whether it is day or night, the Hide & Seek Dog Toy ball is water and dog drool resistant, equipped with a patent-pending light. The built in delayed light and noise function helps find the toy when out of sight, and the ability to shut it off with a handy twist switch is ideal to prolong battery life. A pet owner's dream, it is compatible with most fetch launchers on the market. Available in pink or blue, this versatile toy rounds out a fun pack for your pet during the holidays.
Lea-Ann Germinder, GoodNewsForPets.com Publisher and Founder, says of her collaboration with Kathy Ireland's Loved Ones, "We are thrilled to partner with Kathy Ireland and her Loved Ones collection. She has inspired many women with her approach to her life and her business."
Loved Ones toys are innovative and designed to satisfy a variety of play styles. To learn more, visit the Loved Ones website at http://lovedonesproducts.com/ or check out their Facebook page at https://www.facebook.com/kathyirelandlovedones. For inquiries regarding this press release, contact Lea-Ann Germinder at lgerminder@goodnewsforpets.com.
About kathy ireland Worldwide®
Kathy is married to Gregory Olsen, an emergency physician and CEO of a commercial fishing enterprise. Kathy, Greg and their three children Erik, Lily and Chloe live in Southern California. Her extended four-footed family includes her dogs Sparky, Gracie, and Delilah. kathy ireland Worldwide® maintains headquarters in Rancho Mirage, California and design studios in Los Angeles, Palm Springs, Rancho Mirage, Santa Barbara and Hawaii.
kathy ireland Worldwide® offers creativity in Home, Office, Weddings, Baby Products, Fashion, Fine Jewelry, Destination Properties, Publishing, Entertainment and more.  kathy ireland Worldwide® (kiWW®) is the design and marketing firm founded in 1993 by Chairman, CEO and Chief Designer, Kathy Ireland. Additional information is available at www.kathyireland.com.
About Germinder & Associates & Goodnewsforpets.com
Germinder & Associates is an award-winning New York City based agency that provides strategic counsel, digital publishing content, and national campaigns for niche markets including animal health and pet products. Goodnewsforpets.com has curated news of interest and importance to informed pet parents inclusive of the pet industry and veterinary profession since 2000. For more information contact Lea-Ann Germinder, President and Founder at Lgerminder@germinder.com or 212-367-2170.