The giveaway is now closed. Thank you to all who entered!
Congrats to our Winners!
Rebecca Day from Portland, OR, whose donation will go to the Oregon Humane Society.
Faye Boss from Clifton, CO, whose donation will go to the Roice Hurst Humane Society.
Carol McLaughlin from Croydon, PA, whose donation will go to the Women's Humane Society.
Mike Skrzypek from Howell, MI, whose donation will go to the SPCA Florida.
Each winner receives the exclusive sterling silver Goodnewsforpets™ Heart-Paw charm and a donation to the shelter or rescue of their choice!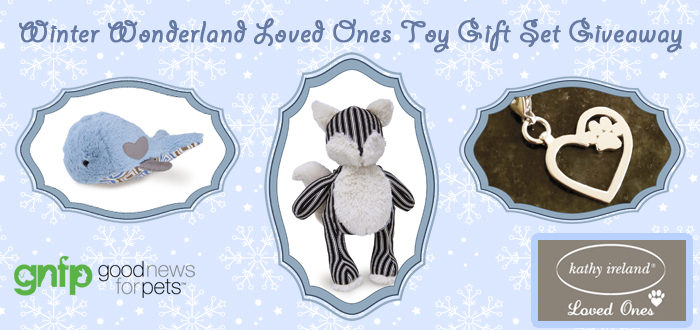 In celebration of the GoodNewsforPets.com 15th anniversary contest series, we are delighted to announce that Kathy Ireland Loved Ones collection is our featured partner for December.The contest will run from December 10, 2015 through December 29, 2015. Winners will be announced December 30, 2015.
Each of three winners will receive a Durable Whale Dog Toy with Treat Pocket, Durable Fox Toy, a Hide & Seek ball in pink or blue, and the Crinkle Bunny Dog Toy. Winners will also receive a custom designed Goodnewsforpets.com Elena Kreigner Silver Paw Charm PLUS designate a personal donation to a local shelter of his or her choice.
Surprise your beloved pup with these durable, endearing toys just in time for the winter season. For those cold days where playing outside isn't an option, bring the warmth indoors with endless hours of entertainment and cuteness with Kathy Ireland Loved Ones Collection.
Let's embrace it, our furry friends love to play. With Kathy Ireland's Loved Ones toys, durability is key and her toys are built to last for years of fun and games.
The Crinkle Bunny Dog Toy is  overstuffed, featuring an inner lining to withstand dogs who love to chew. The toy also has a hidden crinkle material that encourages pets to comfortably play.
The Hide & Seek toys feature a patent-pending light switch, perfect for playtime at night, preventing the toy from being lost during evening fetch time. The balls are also conveniently water-resistant, available in pink or blue, and is compatible with most popular launchers.
The Durable Whale Toy with a treat pocket is a cuddly, plush canvas toy with a heart-shaped pocket for treats, and a built-in squeaker encourages play alongside the inner lining for added durability.
The Durable Fox Toy is cute and rugged, made of a durable canvas, overstuffed to stand up to heavy chewers.
To learn more about Kathy Ireland's Loved Ones, visit the collection online at http://lovedonesproducts.com/ .
Register now for your chance to win and share on your social media accounts using #GNFP15thAnniversaryContest!
Watch for more 15th Anniversary contests on goodnewsforpets.com. For companies interested in sponsoring contests, contact Lea-Ann Germinder.