With wellness being a top of mind topic in the veterinary profession, I'm thrilled Dr. C. Thomas Nelson, heartworm expert, cyclist, dedicated community volunteer, has been named the final Germinder20 Power of Pink Honoree. Honestly, I'm more than thrilled. Try elated. His story sends a message that you really can work hard, play hard, and still give a lot.
His absolutely fabulous wife Brooke, a fellow communications professional, a dedicated civic volunteer, an accomplished marathon runner and Ironman finisher, does the same. More often than not, they do it together. I really have no excuse, and after finishing his story including Brooke, I'm more determined than ever to add getting fit and keeping well into my, "I got that covered."
Announcing the conclusion of the Germinder20 Power of Pink program at VMX2019 felt right for so many reasons. VMX, formerly the NAVC conference, was where I started working in veterinary medicine 20 years ago with the launch of "Pets Need Dental Care, Too!" — three Honoree stories mentioned that work especially with Dan Richardson, DVM, DACVS and Guy Pidgeon, DVM, DACVIM and Heidi Lobprise, DVM, DAVDC. While I was at VMX I also had a chance to visit with other Honorees Debra Horwitz, DVM, DACVB and Susan Little, DVM, DABVP. I spoke to Marybeth Leininger, DVM and corresponded with Elizabeth Colleran, DVM, DABVP. My final hug goodbye was to yet another Honoree, the fabulous Manolita Moore, MBA, VMX Vice President, Exhibit Sales & Operations.
Once I was back in New York City, the Westminster Kennel Club Dog Show press preview was scheduled at Rockfeller Center's Top of the Rock. Within 24 hours I went from the vet world to the dog world, rubbing shoulders in the sky with AKC officials, agility trainers, and TV camera crews – dog lovers all. I had a later chance to correspond with Honorees Julie Lux and Jen Reeder and talk photo business with Honoree Megan Peters. It won't be long before I'll have a reason to say hey to the rest of our fabulous Honorees.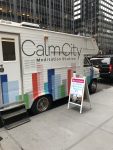 Now about that wellness pledge. I did walk back 20 blocks to my office, however, as I spied the Calm City Meditation station on a New York City street, somehow I could not bring myself to duck in. I didn't think the wellness pledge included stopping in. I do intend to take more walks and bike though. Writing it here is a step in the right direction!
Wellness and volunteerism. Yes, they can go together. Thanks Dr. Nelson, for being our final Germinder20 Power of Pink Honoree and Brooke, dear friend too for reminding us to take time to take care of ourselves.
@lgerminder
UPCOMING COVERAGE: Now it's on to Westminster Kennel Club Dog Show and related festivities including the DWAA Annual Banquet Sunday February 10th. Some DWAA tickets are still available here. In the meantime, visit Instagram @Goodnewsforpets and Follow us on Facebook for the Westminster Kennel Club Dog Show preview pics and more!