Heartworm Expert Honored For Leadership Role in Veterinary Medicine and Volunteerism
Germinder + Associates has named C. Thomas Nelson, DVM, a past president, executive board member, and research chair of the American Heartworm Society (AHS) as the final Germinder20 Power of Pink Honoree to receive the award. In addition to his decades of commitment to educating veterinarians and the public about heartworm disease and prevention, Nelson is a practitioner, an active cyclist, outdoorsman and dedicated community volunteer. He has designated the $1,000 Honoree donation to the Northeast Alabama Bicycle Association (NEABA) Building Fund to drive economic development and wellness in his community. To read more about Dr. Nelson's story, click here #Germinder20 #PowerofPinkHonoree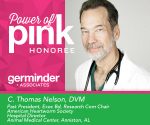 "I am so pleased to conclude the celebration of our 20th anniversary honoring another former client, an outstanding leader in veterinary medicine, and a friend. Dr. Nelson not only understands the effectiveness of educating through public relations, he respects what an agency can bring to the client-agency relationship and his dedication to volunteer leadership is extraordinary. You can't help but succeed with any initiative he's involved with, " said Lea-Ann Germinder, APR, Fellow PRSA, President and Founder of Germinder & Associates, Inc.
Germinder has collaborated with Dr. Nelson since his tenure as president of the American Heartworm Society with the launch of several initiatives. Germinder + Associates was the agency of record for the Society and Lea-Ann Germinder played a unique role with the KNOW Heartworms campaign, partnering Zoetis, (then Pfizer Animal Health), AHS and the American Association of Feline Practitioners (AAFP) with the late Jim Richards, DVM, DACVIM, AAFP spokesperson and former director of the Cornell Feline Health Center, to educate veterinarians and the public about feline heartworm. Dr. Nelson and Germinder's commitment to help educate the public about feline heartworm and feline research remains in large part as a lasting tribute to Dr. Richards' love of feline medicine.
In accepting the honor, Dr. Nelson said,
"I am deeply honored that Lea-Ann would consider me worthy of such recognition. When I think back to the KNOW Heartworms campaign, we conceptualized, received approval from three major organizations, created content, produced all the collateral material and then were able to launch a nationwide public awareness campaign all within the span of FOUR months. I am still amazed we were able to pull it off. It was indeed a team effort of Lea-Ann, Jim Richards and me. If anyone deserves an award it is Lea-Ann and her team. She was able corral two high "D" personalities to work together and with her team we all pulled off the impossible."
Dr. Nelson is considered a pioneer for his clinical work in the study of heartworm disease in cats. In 1997-98, after doubting the validity of the incidence of heartworm in cats, he conducted his own study by performing necropsies on 259 cats to determine true incidence. He continues to lecture at veterinary conferences and meetings throughout the United States and internationally. He has authored, co-authored and edited a number of important guidelines including the American Heartworm Society's Guidelines, several peer-reviewed papers and contributed to several textbooks on the subject of heartworm disease.
He has hosted his own radio show and appeared on other local television and radio broadcasts. He is a strong advocate of educating the public about veterinary medicine. He has been quoted in numerous newspapers and magazines, including the Chicago Tribune, the Desert Sun, the Atlanta Journal-Constitution, Cat Fancy and Animal Sheltering magazine.
Dr. Nelson's volunteer civic activities include the Northeast Alabama Bicycle Association (President), Anniston Museum of Natural History (Provide pro bono veterinary services for live animal collection), Rotary Club of Anniston, Southeast Texas Nature & Wildlife Center (President), Rotary Club of Beaumont (Past Board of Directors), Keep Beaumont Beautiful (Past Chair), Beaumont Independent School District (resource volunteer & mentor), Beaumont Chamber of Commerce (Past Director), Boy Scouts of America (Assistant Scoutmaster, Cubmaster, Den Leader, Philmont Trek Advisor, Scuba Staff National Jamboree).
Dr. Nelson graduated cum laude from the College of Veterinary Medicine at Texas A&M University. He received his bachelor's of science degree in Zoology also from Texas A&M University. He and his wife Brooke, a communications expert, a dedicated civic volunteer, an accomplished marathon runner and Ironman finisher, have been married for 36 years and have three grown sons who share their love of the outdoors and an active lifestyle.
###
#Germinder20 #ThePowerofPink was announced in January 2018 as part of the celebration of Germinder's 20thAnniversary. The storytelling initiative highlights the founder's story of breast cancer survivorship and also shines a spotlight on leaders whose stories have touched and inspired Germinder to success. The full list of donations and honorees is available here.
Germinder + Associates provides communications services for the pet/vet sectors and other niche industries. The woman-owned company was founded by Lea-Ann O'Hare Germinder, APR, Fellow PRSA in Kansas City and has offices in New York City and Kansas City. The company connects and consults with executives in both established companies and organizations interested in entering the vet and pet industries in the U.S.
Goodnewsforpets.com™ combines an award-winning website and social media channels to curate news of interest and importance to pet parents, veterinary professionals and the pet industry. Editorial, contests, sponsored content distribution and advertising are available.
GNFP Digital™ provides a wide range of digital services including digital audits, standard or custom infographics, topic specific modules and branded content implementation. The custom digital content development and distribution services are offered for national brands, veterinary practices and other niche markets.