BlogPaws and 500 of their pet-friendly pals prepare for annual blogging conference.
THORNTON, Colo. — The world's most unique social media conference is about to descend on Nashville, Tennessee, for a three-day excitement filled, pet-welcoming, celebrity infused event. BlogPaws welcomes 500 of the pet industry's top influencers and key bloggers from around the country (and world) as they burst on the scene of Sheraton Music City Hotel for a yearly conference of networking, monetization, learning, and partying.
Why Pet Bloggers: What's the Big Deal?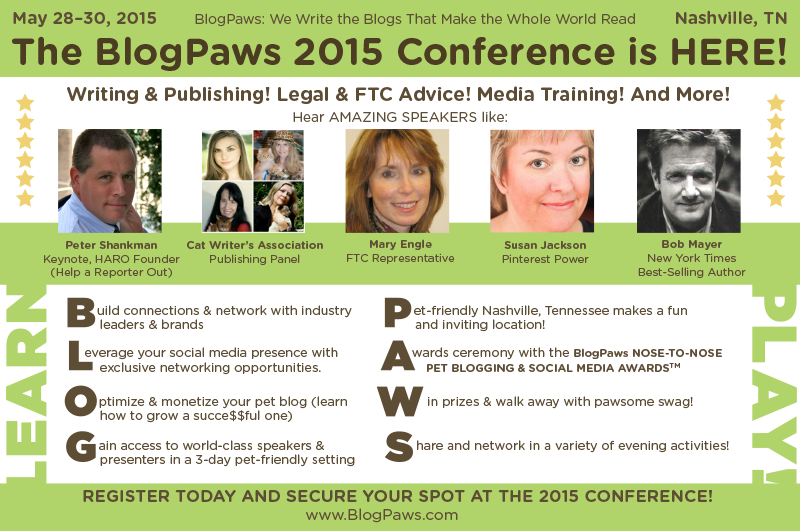 Founded in 2009 by three dedicated pet lovers and bloggers, BlogPaws grew out of the need for a focus on excellence in social media and a devotion to helping pets in need. In less than six years, BlogPaws has become the go-to resource for pet bloggers and social media enthusiasts looking to build their online presence to enhance their social networks and support animal shelters and rescues around the world. Brands also consider BlogPaws the go-to resource when looking for social media attention and contacts. Together, it's a win-win for the pets.
Pets are family and the humanization of our pets has taken a stronghold, from the "makes sense" and dollars perspective.
Pet bloggers are one step ahead of the latest trends and celebrate the human-animal bond by promoting pet health and welfare via social media.
As they do every year, BlogPaws is bringing the social back to social media from a face-to-face and nose-to-nose perspective. Of note, celebri-pets and well-known online pets that produce millions of social media impressions daily and weekly will be present including:
Over 100 dogs
11 cats – plus a variety of service cats and adoptables
2 celebrity mini pet pigs
3 ferrets
1 hamster
1 possible capybara
1 diapered duck
2 rats
3 ducklings – Huey, Dewey, Louie!!!
The Business of Blogging
In 2014, BlogPaws worked with 35 brands—doubling their 2013 number. With over 1,100 sponsored blog posts and over 780 bloggers on-boarded for campaigns, overall 2014 growth was 175 percent over 2013 for sponsored posts.  Over $160,000 was paid out to participating bloggers in the BlogPaws Pet Blogger Network.
According to the American Pet Products Association (APPA), an estimated $60.59 billion will be spent on pets in the U.S. in 2015 which is up from 2014, when $58.04 billion was spent on pets. That's no chump change. Pets are defined as everything from dogs to cats but also ferrets, rabbits, fish, birds, hamsters, reptiles, and capybara.
This year, in an effort to reduce the carbon footprint and pawprint of all guests, BlogPaws, Only Natural Pet, and the Pet Industry Sustainability Coalition (PISC) have partnered to launch a zero-waste initiative at the conference.
The entire MARS Petcare (http://www.mars.com/global/index.aspx) family is so excited to welcome the BlogPaws Community to Nashville as the presenting sponsor! MARS will be bringing out a number of their brands. The MARS Petcare family works to highlight the benefits of having a pet and to educate people to be responsible pet owners.
Sitting Up and Taking Notice
Steve Dale, certified cat behavioral consultant and writer of the most well read syndicated pet column in America, will present the Winn Feline Media Appreciation Award at the BlogPaws Annual Conference during opening ceremonies on May 28th.
The Cat Writers Association (CWA) will also feature two workshop panels.
Event Details
The BlogPaws 2015 Conference takes place May 28-30, 2015, at the Sheraton Music City Hotel in downtown Nashville. The conference is capped at 500 attendees for a more intimate, personal experience, culminating with a Red Carpet event to celebrate the pet industry's only pet blogging awards judged by a distinguished panel of professionals, not by popular vote.
Media Contact: Carol Bryant, 570-540-3341, carol@blogpaws.com
About BlogPaws
BlogPaws is the largest professional network of pet bloggers and social media enthusiasts. BlogPaws is owned by Pet360, Inc. – a division of PetSmart. http://www.blogpaws.com.