BlogPaws opens its nominations for the 4th Annual BlogPaws "Nose-to-Nose" Pet Blogging and Social Media Awards

Jan. 26, 2015 – THORNTON, Colo. — It's that time of the year: The pomp and circumstance, the glitz and glam, the paws and claws: In true Oscar-like fashion, the BlogPaws 2015 Pet Blogging and Social Media Award nominations are open!
These are the only pet industry awards on which pet bloggers and micro-bloggers are judged on the expertise, performance, and creativity of the entry. Each category is judged by a distinguished panel of professionals, and not by popular vote.
"This is one of the highest honors in the pet social media world, awarded across twelve categories to some of the most talented pet writers and bloggers on the planet," BlogPaws' co-founder, Yvonne DiVita said.  "With over 1,000 entries last year, this year's awards committee is gearing up for an outstanding influx of nominations."
BlogPaws, the first and original social media network and conference designed by and for pet bloggers, seeks nominations for the BlogPaws 2015 Pet Blogging and Social Media Awards, which close on January 31, 2015.
Additionally, this year, BlogPaws will recognize select blogs with a Certificate of Excellence in:
Best series of posts*, Best collaborative posts*, Best About Page*
(*Nominations not accepted for certificates – the team at BlogPaws will choose from all qualifying nominations received by the deadline date of January 31, 2015).
Entrants may nominate themselves or someone else, in one or more categories, one time each, in the following categories:
Best Pet Blog Design
Best Written Pet Blog Post
Best Pet Humor Blog
Best Dog Blog
Best Cat Blog
Best Unconventional Pet Blog
Best New Pet Blog
Best Cause Blog for or about pets
Best Pet Video on a Blog
Best Pet Photo on a Blog
Best Pet Microblog
Best Use of Social Media by a 501c3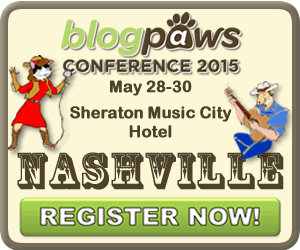 Winners will be revealed in an exclusive red-carpet ceremony  at the seventh pet-friendly BlogPaws Annual Conference, taking place May 28 through May 30th in Nashville, Tennessee at the Sheraton Nashville Music City. The three-day extravaganza culminates with this posh ceremony. All winners receive a trophy, recognition by peers, interviews with media, and a prize package.
BlogPaws hosted its first pet-friendly social media and marketing conference in 2010 and has grown annually into the biggest social media event and conference of its kind. Hundreds converge each year for one of the year's most influential social media gatherings. BlogPaws team members are available to comment on the pet industry, pets as family members, blogging and microblogging, and any other pet-related story angle.
About BlogPaws
Founded in 2009 by three dedicated pet lovers and bloggers,
BlogPaws
helps pet bloggers and pet enthusiasts connect digitally, build their online presence, enhance their social networks and support animals and shelters/rescues across the world. BlogPaws works year-round to connect bloggers and micro-bloggers to the brands they buy every day. The BlogPaws community site welcomes pet bloggers, pet enthusiasts, pet people on Twitter and Facebook and brands that are eager to tap into a vibrant, vocal community of serious writers, bloggers and micro-bloggers. BlogPaws is a
Pet360 Inc
. brand.
Media Contact
Carol Bryant, PR and Marketing Manager
5705403341
carol@blogpaws.com