Deborah Barnes, the Goodnewsforpets.com Human-Animal Bond Award Winner announced at the Cat Writers' Association Annual Awards Banquet, joins us to talk about her new book "Makin' Biscuits – Weird Cat Habits and the Even Weirder Habits of the Humans Who Love Them".
Deborah Barnes, the Vice President of the Cat Writers Association explains how her writing endeavors began, the thrill of winning multiple awards at this year's CWA Annual Awards Banquet and how her cats changed her life. She humbly spills the little secrets and benefits of being a Multi-Award winner on her books and blog. Naturally, Deborah shares her thoughts on cats, cat behavior, and how a cold shower turned into a book!
You were a triple award winner at the Cat Writers' Conference this year (including the Goodnewsforpets.com Human-Animal Bond Award Winner for Makin' Biscuits Book) What was that experience like?
It was surreal, humbling, and life-affirming. Surreal in that each time my name was called I felt like it was happening to someone else and it was hard to comprehend it was actually me walking up to the podium to accept an award, let alone three, including the coveted President's Award which honors the "Best of the Best" from all entries. Writing is a relatively new experience for me – I began my journey in 2010 without any formal training and I joined the CWA a year later. I was in awe of the caliber of talent in the organization, never considering I could ever be in the same league as these people I had admired from afar, so it was extremely humbling to be recognized by my peers for my efforts. It was also life-affirming in that it was a long and arduous road for me to get to where I am today, with many nay-sayers along the way who didn't think I had what it took to make it. I poured my heart and soul into Makin' Biscuits, so it really meant everything to me to know the book had touched the hearts of the judges as well.
Can you tell us how you got involved in writing about cats?
It started with a litter of four kittens. My male Maine Coon, Zee, and my female Bengal, Zoey, fell in love and Zoey subsequently had a litter of kittens, long before I knew about the severe problem of cat overpopulation and the crucial need for spay/neuter. I chronicled the week-by-week growth of the kittens with my family and friends via email by sharing a funny story and picture each Friday morning and the reaction was overwhelming – everyone thought I should write a book about them! I had always wanted to be a published author but I honestly never thought about pursuing the notion. That changed in 2009 when the kittens were about 6 weeks old and I was unexpectedly laid off from a 20 plus year career in administration and marketing. After nearly losing my home and struggling with the emotional burden of unemployment, it was the lessons learned and the love and companionship of Zee, Zoey, the kittens, and my two other cats who inspired me to write my first book about them, The Chronicles of Zee & Zoey – A Journey of the Extraordinarily Ordinary.  The book led to my now award-winning blog, Zee & Zoey's Cat Chronicles, along with an additional book – Purr Prints of the Heart – A Cat's Tale of Life, Death, and Beyond, as well as articles for several national cat-related magazine publications, secretary to the non-profit Pawsitively Humane of Miami, Florida, and V.P. of the Cat Writer's Association.
What inspired you to write Makin' Biscuits?
Makin' Biscuits actually wasn't a book on my radar at all. The idea came to me after I got out of the shower one morning and bent over to wrap my wet hair with a towel. I felt something land on my head – it was Mia, my normally shy cat who typically didn't let me pet her – she had decided it was the perfect place to bond with me and was settling in for a nap. Rather than disturb her, I let her stay, even though it was killing my back, and even though I knew I'd be late for work as a result. But it was such an oddly endearing moment and it dawned on me – not only do cats have weird habits, but so do the humans who love them, and that's when I knew I had a book in the making! I initially thought I would put together a collection of stories from assorted people sharing some of the crazy, funny, and strange things their cats do, but as I started to compile the anecdotes, I noticed behavioral patterns emerging with the cats and I decided I wanted the book to explore the feline mindset alongside the strange habits by explaining why the behaviors occurred in the first place, as well as to offer well-researched, practical advice to give cat guardians the tools necessary to ensure their cats an optimally happy and healthy life befitting their feline nature and to enhance and improve the feline-human bond.
How much research, preparing and planning did you have to go through to get all the stories and anecdotes together?
Once I had a better concept of what I wanted Makin' Biscuits to be, the research, preparing, and planning took about a year. As I'm a self-published author who also works a full-time day job, this was a daunting project to say the least, as nearly every aspect of the book was done by me from start to finish. I worked on the book during weekends as well as early in the morning before I went to work and late at night after I got home. Writing, research, book cover and back design, book formatting for both print and e-pub versions (including photos and captions), marketing and more was all done by me. Reaching out to people for anecdotes was the easy part – it was staying in contact with them for follow-up questions and editing that was more difficult. I used my chapter titles as a guideline for what type of anecdote I was looking for and what type of message I wanted to teach about the cat behavior in question. For example, the chapter "You Can Pet Me, Just Don't Touch Me" was inspired by my aforementioned Mia, exploring those cats who don't like to be picked up or cuddled with, no matter how much you as a human want them to. I wanted to make the point even if a cat doesn't like that type of affection, it doesn't mean the cat isn't friendly or doesn't like you. As hard as it is for me to imagine, many cats are brought to shelters because they are deemed anti-social, when in fact, after analyzing their behavior, they may be showing affection in less obvious ways, such as by greeting you with a meow hello when you walk into a room, or by sitting next to you on the couch.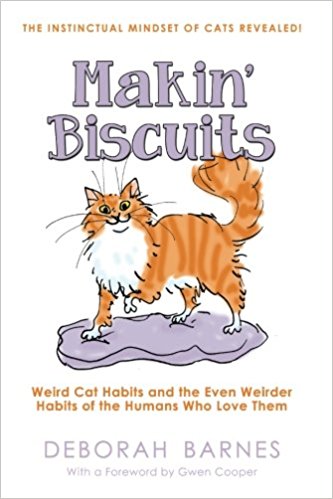 You talk to celebrities in the book, any secrets in how you got to them?
I owe much of the celebrity aspect to the CWA. It was there, at the first conference I attended in 2011, I met Susan Logan, editor of Cat Fancy magazine (defunct now since December, 2014 after nearly 50 years of publication). Even though I was a complete unknown in the world of cat writing at the time (writing my first book about a cat that had a litter of kittens to boot), she took a chance on me and I published my first national article with her on the importance of spaying or neutering a kitten at a young age. The article segued to a couple more, and with a professional portfolio under my belt, I felt more confident reaching out to celebrities for other projects. Now that I have won awards and have other books in my arsenal and can "name-drop" that also helps. Much of it is also luck, perseverance, and how you handle the approach. Most celebrities are nearly impossible to get in touch with – sometimes you'll get an agent who will help out – and sometimes you can actually get a celebrity to respond via communication on Facebook or Twitter. You need to be concise with your request to work with them – no celebrity or agent has time for a lengthy email – and you need to do your homework by making the request personal to the celebrity. Don't send out a general form-letter type of request and representing a good cause, such as animal welfare, also helps.  Bottom line for me – I'm extremely tenacious and for every closed door I encountered, I knew I'd eventually get one that opened!
Your book talks a great deal about cat behavior. Aside from personal observations, what sources did you use?
Over the years as a blogger, author, and cat advocate, I've been introduced to a wealth of talented people and information that is at my disposal. These are respected, trusted sources in the field and they are my "go-to" people and places. I've met many of these people in person at pet-related conferences and I also have a personal library full of books on cat behavior and cat care written by several of my esteemed colleagues that I used for reference (many of which I've reviewed on my blog). I also frequented a few key websites from certified cat behaviorists to further educate myself, and being that I've written several articles of my own on the subject of cat behavior, I was also able to draw on previous works of mine.
Based on your extensive research and work with cats what would you say is the most important aspect of training cats?
For me, when it comes to training cats, I think of it more as behavioral redirection rather than training in the traditional sense you might think of that implies certain things, such as teaching a cat to walk with a lease, perform tricks, sit-up for food and more – all of which they can be taught to do – generally by using treats or playtime as a reward so the cat associates the desired outcome of the training with something positive. Behavioral redirection requires you to think like a cat and since a cat is wild by nature, that innate internal wiring guides nearly everything they do. So, for example, if you have a cat who scratches your couch and you want him to stop, it's not so much training him to stop, it's providing him an alternative outlet to do something that is instinctual to his health and well-being. Well-placed scratching posts and keeping his nails trimmed could be possible solutions. In most instances, training and/or behavioral redirection requires patience and perseverance to be successful.
How important is seeing vets during periods of no apparent illness?
Cats are masters at hiding symptoms of sickness so if you only take him to the vet when he appears to be ill you could be causing him inadvertent harm. Annual wellness checks (or semi-annual for senior cats) will help to catch any latent illnesses he may be harboring, allowing him to live a much happier and healthier life in the long run. Cats may also exhibit problems that appear to be behavioral, but might actually be an illness in disguise. For example, if a cat starts peeing or pooping outside the litterbox and it's not due to environmental issues that are causing him stress, it might be a urinary infection that requires medical attention. Going to the vet can be traumatic for both the cat and the owner, which is one of the reasons cats aren't taken to the vet on a regular basis, but with some techniques I share in Makin' Biscuits, the stress can be lessened.
Why would you recommend every cat reader to read this new book?
From a very young age, cats have always been a part of my life. My life hasn't always been easy   but they've always been the one constant that has kept me grounded and brought me love, comfort, and joy. Unfortunately, cats have an uphill battle – from negative stereotypes that affect how people perceive them to literally millions of them living on the streets and shelters, with millions more needlessly euthanized every year. I want to give back to these extraordinary creatures that deserve better. Makin' Biscuits is my voice and my way to help. Far too many cats end up in shelters or abandoned on the streets for behavioral issues that could be resolved with a little patience and understanding. Knowledge is empowering and the only way we can improve cat welfare is by being better informed. Makin' Biscuits educates through entertainment (a fun technique in which you learn without even realizing you're being taught) and it's got something for everyone. Funny stories from celebrities about their cats, like Vanna White of Wheel of Fortune to everyday people who share stories so amazing they have to be read to be believed. And tucked within the humor is well-researched information (what I call "Purr Points to Ponder") in which I share why our cats do what they do. Cats that zoom from one room to the next for no apparent reason, cats who hide toys in shoes, and cats who obsessed with opening closed doors – the secrets behind all of these behaviors and more are revealed in Makin' Biscuits. It's a book for anyone who has a cat, or anyone who is thinking of getting a cat, and should be a "must-read" in schools, veterinary offices, and rescues nationwide. And I promise you, even if you think you know everything about your cat, chances are you'll learn just a bit more about what makes him tick after reading Makin' Biscuits!
Anything else you would like to add?
I would just like to thank GoodNewsforPets.com for being such a special part of the Cat Writers' Association and for bestowing me with the prestigious honor of winning the Human-Animal Bond Award for Makin' Biscuits. The Cat Writers' Association will always hold a dear spot in my heart and is a tremendous organization for not just writers to celebrate and rejoice in promoting the glorious feline species through the written word, but photographers, illustrators, videographers, artists, and more.
Social:
http://www.zeezoey.com (Books and Website)
http://zeezoey.com/blog/ (Blog)
http://www.facebook.com/makinbiscuitsbook (Makin' Biscuits on Facebook)
http://www.facebook.com/zeezoey (Zee/Zoey on Facebook)
http://www.facebook.com/purrprintsoftheheart (Purr Prints of the Heart on Facebook)
@ZeeandZoey (Twitter)
@Makin_Biscuits (Twitter)