The Cat Writers' Association (CWA) recently announced two debut panels at the upcoming BlogPaws Conference in Nashville on May 28-30, 2015. CWA members will share their expertise during two CWA sponsored panels, "Publish or Perish" and "Bridging the Gap Between Bloggers and Publishers." Goodnewsforpets is pleased to be interviewing each of the panelists leading up to conference. Our next guest interview is from award-winning author, blogger and cat advocate, Deborah Barnes. Deborah will be featured in the CWA writer's track "Bridging the Gap Between Bloggers and Publishers" at this year's BlogPaws, where she is also a nominee for the 'Best Cat Blog' award.
Everyone has a story to tell about how they got involved writing about pets.  What is yours?
I've always loved writing and animals – especially cats – but writing about them was never anything I had seriously entertained, as I had a 20-plus year career in marketing in full swing. This changed in 2009 after two unexpected events – I was laid off at the age of 48, leaving me with a life-changing career fork in the road, and my cat, Zoey, had a litter of kittens with her soulmate cat, Zee. In helping Zoey raise those kittens, I was sending weekly email updates to friends and family about the amusing antics of watching the kittens grow up and how Zee and Zoey acted as cat parents. The stories became so beloved that I was bombarded with people telling me I should write a book about it. Despite my lack of professional training, I decided "why not?" and took the plunge by writing and self-publishing my first book, The Chronicles of Zee & Zoey – A Journey of the Extraordinarily Ordinary.
How did you get involved with the Cat Writers' Association?
I was a novice to writing and self-publishing, naively thinking once The Chronicles of Zee & Zoey was on the market, that cat lovers would naturally want to buy it, and I would become an overnight sensation like Vicki Myron who wrote Dewey the Library Cat. I quickly realized that was not how it worked. I decided I needed to find an organization that represented both cats and writers, in order to provide me with the guidance and mentoring I needed. I did a Google search, and viola! I found the Cat Writers' Association and immediately applied for membership.
What have been the benefits to being involved in Cat Writers' as a member and now a 2015 Council Director?
The benefits have been numerous. Along with getting the advice and direction I needed to help move my book forward, I was able to build invaluable relationships with esteemed members of the organization. These relationships significantly boosted my confidence level, both in my writing abilities and as a way of opening doors for me. One such opportunity was becoming a contributing writer to Cat Fancy magazine, something I would never have thought possible in my wildest dreams years ago. Because of these relationships and what I was able to achieve, I earned the respect of the organization, garnering me a position with the council that now enables me to help shape the direction of where the organization is going and to better assist the well-being of cats in a world that is being redefined both socially and technically.
The Cat Writers' Association is offering two new panels at this year's BlogPaws Conference; can you tell us a bit about the panel you are speaking on?
I will be speaking on the panel, "Bridging Journalistic Excellence and Blogging," along with Layla Morgan Wilde, Janiss Garza, and Alana Grelyak. I don't have a formal education in journalism, so my focus will be on how a blogger can bridge the two worlds. I will discuss how writers can then emerge as credible journalists, by blogging with quality writing that is supported by reliable fact checking and research, by writing about specific genre topics that elevate you to becoming an expert in your field, and by creating a consistent and professional voice, which people trust.
Your book, The Chronicles of Zee & Zoey – A Journey of the Extraordinarily Ordinary is described as inspired by the relationship with your seven feline companions; how do they continue to inspire your work?
My cats inspire me each and every day. Not only do they fascinate me as a species, but also I find that they are always able to teach me new lessons. From keeping me grounded to looking at life with a fresh perspective, they always remind me to live in the moment and appreciate what I have. Because I also try to write through their minds-eye, they also inspire me by having me think through what I perceive to be their perspective. This allows my writing style to be a bit more unique, engaging, and provocative.
You were the winner of the prestigious "Cat Writer of the Year" award in 2013, what has the award meant to you and your work?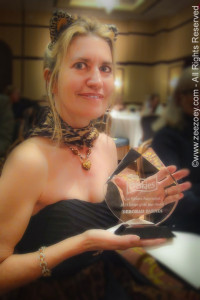 Winning "Cat Writer of the Year" was one of the most surreal moments of my life and when I first heard my named called, I thought they were talking about someone else. Once it started to sink in, I felt like Sally Field in her infamous, "you like me, you really like me" acceptance speech at the Oscars. The award meant everything to me because it was validation that all my efforts writing about issues such as the importance of early spay/neuter and dispelling myths about feral cats had, in fact, made a difference. The award set a high bar for me – always encouraging me in the background to push my writing efforts to the highest level possible.
You are the creator of the award-winning blog Zee & Zoey's Chronicle Connection, what topics do you cover in your blog?
Zee & Zoey's Chronicle Connection, (to be re-named Zee & Zoey's Cat Chronicles in the near future to more generically represent all cats and not just my feline family members) covers the everyday journey I share with my cats, as well as topics from the humorous behaviors of cats to very serious subjects on pet responsibility. These topics range from the feline-human bond, to spay/neuter, TNR, feral cats, and more. I also do book and product reviews and giveaways when I can and no matter what the topic, my blog is always known for quality writing, coupled with stunning photos of my feline family that are primarily taken by my extremely talented fiancé, Dan.
Both your book and your blog are titled Zee & Zoey, what is the story behind the name?
Zee and Zoey are the reigning King and Queen of our household. Zee is a Maine Coon that I gave to Dan as a kitten as a housewarming gift when he moved in with me many moons ago and Zoey came out of my love of all things leopard. When Zee met Zoey, he fell head over heels in love with her and they subsequently had a litter of kittens. Back then I was not the educated cat guardian I am today and I did not know a cat should be spayed before a year old. Zoey was 11 months when she gave birth to a litter of four and while I don't ever regret her having the kittens and love them dearly (we kept 3 of the 4 of them). The experience has been the impetus to me learning about early spay/neuter and becoming a cat advocate to speak about the overwhelming problem of cat overpopulation on the streets and in shelters.
Do you have any projects outside of your blog and Cat Writers' that are currently in the works?
It's bittersweet, but I do have a project in the works that I am very proud of – my second book called Purr Prints of the Heart – A Cat's Tale of Life, Death, and Beyond! It is written in the wise and comforting voice of my cat, Mr. Jazz, that I had to help cross over the Rainbow Bridge in 2013. In the book, he shares his life and death journey to offer guidance and reconciliation through a cat's perspective as to why sometimes letting a pet go can be the greatest gift you give them, despite the deep pain and range of emotions you will feel as a result. I also have three future book ideas floating in the back of my head, one of which is not about cats!
As a cat advocate and Secretary of the non-profit, Pawsitively Humane of Miami, FL, what are same ways the average pet parent can get involved with their local shelter or rescue?
That is a great question and the good news is that ANYONE can help, from small things like donating towels, food, and toys, to donating time or fostering a pet – and that is just a start. Donating money is always appropriate, as most local shelters rely on volunteers and have very little funding to keep the shelter operational. Another way to help out is to be an ambassador of high-quality, factual information. The more people are talking and writing about ways to reduce the numbers of animals on the streets and in shelters, the better off the world will be. Topics, for example, such as early spay/neuter or why senior cats, cats with disabilities, and black cats make good pets are great discussion points.
Is there anything else you would like to add?
I would just like to add that nothing is impossible. If you have a dream or a goal – go for it. I'm not going to say it's easy, but if you believe in yourself, it can be achieved. You might fail numerous times, but don't let that bring you down or stop you. Use the failures and closed doors as positive learning fuel to move upward and onward. Find an organization in your field, like I did with the Cat Writers' Association, and surround yourself with the kinds of people who believe in what is already true to your heart.
Links:
dbarnes@zeezoey.com (Email)
http://www.zeezoey.com (Website)
http://zeezoey.com/blog/ (Blog)
http://amzn.to/19CshVK (Amazon link for The Chronicles of Zee and Zoey)
http://amzn.to/1HUwEe1 (Amazon link for Purr Prints of the Heart)
http://www.zazzle.com/zeezoeyboutique (Zazzle Boutique)
http://www.facebook.com/zeezoey
http://www.facebook.com/purrprintsoftheheart
Note: The two CWA sponsored panels debuting at the upcoming BlogPaws conference in Nashville, TN are designed to help writers and bloggers alike, improve their writing skills and publishing knowledge. More information about the CWA panels can be found here. For information about the BlogPaws and the 2015 conference, including how to attend, visit here.