In his guest interview with Goodnewsforpets, Dr. C. Thomas Nelson mentions the following products:
"We do have some new products that have come out for cats in 2019.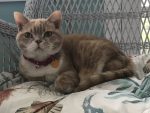 There's Revolution Plus from Zoetis. They've added sarolaner to selamectin, so now in addition to killing heartworms, some intestinal worms and ear mites, they've added a flea and tick component to it. Now you're getting very good flea control and tick control, especially if you're in the south central United States where cytauxzoonosis is, which is transmitted by ticks and kills cats.
There is a new topical that does heartworm, roundworms, hookworms and tapeworm called Centragard by Boehringer Ingelheim. It contains eprinomectin and praziquantel. Tapeworms are very prevalent in cats and this product does an excellent job of treating these recurring infections."
According to Dr. Nelson, one of the most important things to reinforce with pet owners is heartworm is a deadly disease.
"In dogs, we can treat the heartworm infection and eliminate the infection quite successfully. But, even though we eliminate the infection, there will be damage done to those vessels and to the lungs that's longstanding and doesn't go away. Just eliminating the worm does not mean that there's not still disease there, because heartworm disease is basically forever.
In the cat, if they get an adult worm, we have no treatment for adult worms. Even in the cat the immature worm is going to cause significant lung lesions. All of our data now supports that our cats are being infected at the same rate as dogs.
This is something that's very, very easy to prevent. We can prevent it in our dogs, we can prevent it in our cats, make them live longer and healthier and be healthier. These products that we're using are also going to take care of other parasites — intestinal parasites that can potentially affect us and our children and our grandchildren. There are so many reasons to do — and I can't think of one not to do it."
To read the full interview with Dr. Nelson, click here.
The above is provided for informational purposes. As always consult your veterinarian to determine which product is best for your cat.