In his recent guest interview with Goodnewsforpets, Dr. C. Thomas Nelson mentions the following products:
"We do have some new products that have come out for cats this past year.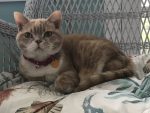 There's Revolution Plus from Zoetis. They've added sarolaner to selamectin, so now in addition to killing heartworms, some intestinal worms and ear mites, they've added a flea and tick component to it. Now you're getting very good flea control and tick control, especially if you're in the south central United States where cytauxzoonosis is, which is transmitted by ticks and kills cats.
There is a new topical that does heartworm, roundworms, hookworms and tapeworm called Centragard by Boehringer Ingelheim. It contains eprinomectin and praziquantel. Tapeworms are very prevalent in cats and this product does an excellent job of treating these recurring infections."
To read the full interview with Dr. Nelson, click here.
The above is provided for informational purposes. As always consult your veterinarian to determine which product is best for your cat.