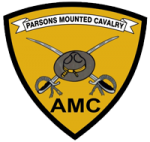 The Texas A&M University Parsons Mounted Calvary (PMC) is a special horse combat unit in the Corps of Cadets and the only collegiate mounted cavalry unit in the nation. Military horse training is used to teach cadets self-discipline, confidence, leadership, and decision-making. Learning to manage an animal much larger than themselves with a mind of its own in challenging conditions develops many of the skills necessary for modern business and military leaders.
The Texas A&M University's Parson's Mounted Cavalry (PMC) was one of 18 equestrian groups invited to ride in the 130th Rose Parade®, presented by Honda, on January 1, 2019, in Pasadena, California. PMC presently consists of 78 junior and senior cadets and 70 horses and mules. Named after a former Commandant of the Corps of Cadets, Colonel Thomas R. Parsons, the horse cavalry unit consists of cavalry, artillery, and quartermaster elements.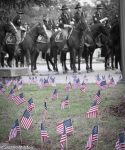 To read more about PMC, click here.
Military training at Texas A&M had included mounted drill until 1943, when the Army disbanded its horse operations. The Cavalry tradition was revived at A&M by the Class of 1974.  Dr. C. Thomas Nelson, was one of 30 individuals who helped revive the group in 1974 as a senior year student. He learned to ride English jumping saddles riding in formation. As a result of his horse becoming sick he spent several weeks at at the University of Texas A&M College of Veterinary Medicine and ultimately decided to become a veterinarian as a result. To read his story, click here.