Wham-O Pet Frisbee is not your ordinary flying piece of plastic, but instead this 9in. soft rubber disc features raised Bone-Tec patterning, which adds dimensionality to a product and provides tooth grip and chew feel.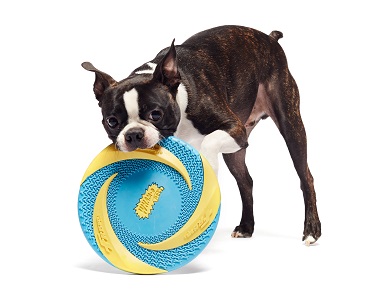 It's made from a new custom design consisting of heavier rubber, which makes it extremely durable. Our canines can easily crack or chew apart an ordinary plastic flying disk leading to a potential choking hazard. Priced between $10-15 each, Wham-O Pet's high-quality Frisbee will give pet owners piece of mind during playtime and last much longer than traditional discs.
A standard flying disk is hard for our pets to catch and can be a challenge for them to hold in their mouths. The custom rubber thatWham-O created gives our dogs the ability to catch and play easily.  Wham-O has been a pioneer of fun and excitement to people for over 60 years. Pet parents and their pups will love to play with this new line of toys. In addition to the Frisbee, there's a Wham-O Super Ball, along with many other durable pull and tug toys as well, which are great for indoor play during the colder months. Their entire pet product collection has been custom designed for dogs of different sizes so many popular smaller breeds can play too.