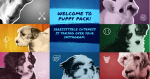 Here come the AKC Instagram puppies!  The American Kennel Club (AKC®) is introducing seven adorable puppies that will make up its first ever "AKC Puppy Pack".  The AKC will follow the story of these seven puppies as they grow, learn and wiggle their way into pet parent hearts. The AKC Puppy Pack 2019 can be followed at #AKCPuppyPak. The pups include:
"Hazel," an English Setter (Sporting Group)
"Gideon," an Ibizan Hound (Hound Group)
"Nymeria," a Bernese Mountain Dog (Working Group)
"Smidge," a Russell Terrier (Terrier Group)
"Stryker," a Shih Tzu (Toy Group)
"Marzipan," a French Bulldog (Non-Sporting Group)
"Ryder," an Australian Shepherd (Herding Group)
This delightful pack is a great way for dog lovers everywhere to experience the daily joys, trials and tribulations of puppies' lives. AKC will highlight the puppies' first year of life via the Instagram account @americankennelclub. From learning basic commands to trying new AKC sports to getting into mischief, each puppy's journey will be unique.
"Puppies bring such joy and happiness to people's lives. We wanted to find a way to share that happiness and think that watching each member of the pack grow and take on new challenges will be both fun and educational," says Kirsten Bahlke, Vice President of Consumer Demand. "As champions of responsible dog ownership, we at AKC want anyone considering bringing a puppy into their lives to know what to expect. Beyond just showcasing the puppies, our content will feature information about AKC training programs, how to bond with your dog through different AKC Sports and many other tips."
Founded in 1884, the American Kennel Club is a not-for-profit organization which maintains the largest registry of purebred dogs in the world and oversees the sport of purebred dogs in the United States. The AKC is dedicated to upholding the integrity of its registry, promoting the sport of purebred dogs and breeding for type and function.  Along with its more than 5,000 licensed and member clubs and its affiliated organizations, the AKC advocates for the purebred dog as a family companion, advances canine health and well-being, works to protect the rights of all dog owners and promotes responsible dog ownership. More than 22,000 competitions for AKC-registered purebred dogs are held under AKC rules and regulations each year including conformation, agility, obedience, rally, tracking, herding, lure coursing, coonhound events, hunt tests, field and earthdog tests. Affiliate AKC organizations include the AKC Humane Fund, AKC Canine Health Foundation, AKC Reunite and the AKC Museum of the Dog.  For more information, visit www.akc.org.