Kick Off Summer with Tea for Spot® & the Goodnewsforpets™ 15th Anniversary
New York, June 2, 2015 – Enjoy the summer sun with a tea party with your pet! Goodnewsforpets™ continues its 15th Anniversary celebration with a contest featuring a Tea for Spot® "Tea Party" Kit, plus the exclusive GNFP™ Heart-Paw Charm. This summer Tea for Spot and Goodnewsforpets want to help you and your pet enjoy time together with a spot of tea. There will be three winners, and along with this great prize, the winners will also select a local shelter or rescue for a donation to be made in his or her name. To enter the contest, simply register at https://goodnewsforpets.com/summer-tea-party-fun-contest/ by June 22, 2015 and share the contest by using the hashtag #GNFP15thAnniversaryContest!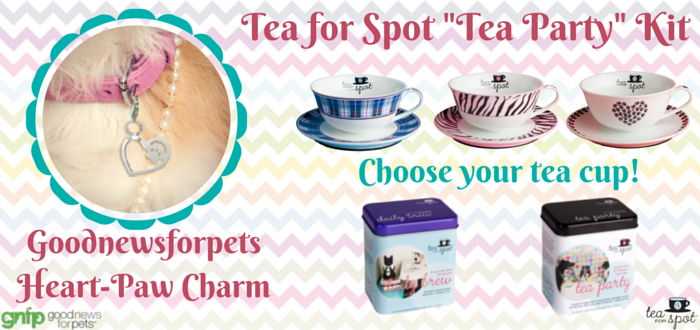 The featured Tea for Spot "Tea Party" Kit includes a choice of one of three Spot's Teacup designs, a 8 ounce fused porcelain cup and saucer with a skid resistant bottom, plus a tin of Daily Brew and a tin Tea Party, which includes a sampler pack of all teas. The Daily Brew is a great way to provide daily nutrients to your dog, as this blend has a mix of ingredients rich in anti-oxidants, vitamins, minerals, and essential oils. And the Tea Party tin contains 5 bags each of Daily Brew, Kissably Canine, Leaps & Bounds, and No Worries, Mutt. Each blend comes with its own health benefits. You can choose a different cup for your pet each day!
"Tea for Spot is healthy and fun. People have always enjoyed sharing a good cup of tea. Now your dog can have the same experience. Share your daily tea time by brewing a cup of Tea for Spot for your furbaby, or host a dog tea party and invite their friends, too." said Heather Norris.
Tea for Spot products provide thoughtfully inspired, all-natural canine cuisine, beverages and accessories. These products promote healthy dietary habits and the enjoyment of the simple things in daily living. Tea for Spot is a 100% caffeine-free, proprietary blend of organic tea, herbs, spices and all natural ingredients, which are carefully blended to promote your dog's health. Health and wellness are as important to companion pets as they are to humans!
"We are thrilled to partner with Tea for Spot. This is a chance to help spread the word about this great product to our community of pet lovers, offer another chance to win the GNFP charm, and make donations to benefit more pets. It's a win-win combination," said Lea-Ann Germinder, APR PRSA, President & Founder of Germinder & Associates and publisher of goodnewsforpets.com.
The Goodnewsforpets 15th Anniversary Contest Series features a new contest each month through the site's anniversary month, February 2016. Each contest will feature a partner company's products and/or special offer, a sterling silver GNFP Heart-Paw charm custom designed by Elena Kriegner and a donation to each winner's local shelter or rescue. The versatile charm can be worn anywhere to show your pet love such as a necklace, bracelet, or a pet's collar.
About Tea for Spot
Tea for Spot® is just that…tea for dogs! Who doesn't enjoy the perfect cup of tea? For centuries, humans have enjoyed the daily health benefits, the moments of escape from the busyness of life, and the social aspects of drinking tea. Tea for Spot brings this same, simple indulgence to dogs.
Tea for Spot is for pet parents who care about their dog's well being and know the value of establishing healthy habits through wholesome food and drinks. They take time and effort to care for and connect with their pets through beneficial products that their pets will enjoy.
Tea for Spot is blended and packaged in the USA in fun, whimsical tea tins with eye-catching dog portraiture. Go ahead and "Give Your Pup a Cup! ™".
About Germinder & Associates & Goodnewsforpets.com
Germinder & Associates is an award-winning New York City based agency that provides strategic counsel, digital publishing content, and national campaigns for niche markets including animal health and pet products. Goodnewsforpets.com curates news of interest and importance to informed pet parents inclusive of the pet industry and veterinary profession. For more information contact Lea-Ann Germinder, President and Founder at 212-367-2170 or at Lgerminder@germinder.com.