Congratulations to our winners! Watch for the Next Goodnewsforpets.com 15th Anniversary Contest Coming Up Soon!

Each winner has also received the exclusive sterling silver Goodnewsforpets™ Heart-Paw charm and donation to the shelter or rescue of their choice!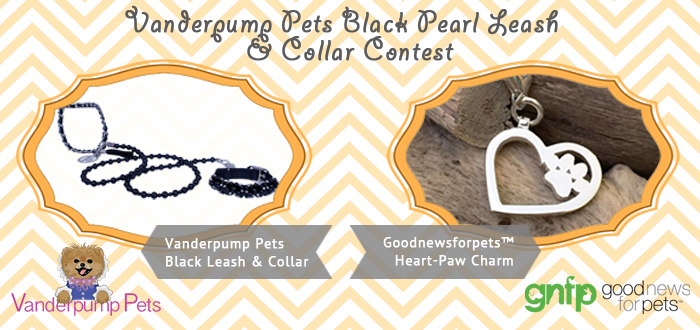 In celebration of  the GoodNewsforPets.com 15th anniversary contest series, we are partnering with Lisa Vanderpump and her Vanderpump Pets line to offer stylish, yet practical accessories for pooch just in time for Halloween. Perfect for dressing up your doggy in his or her October costume, three lucky pets and their pet parents will receive a Black Pearl Collar and Leash set shipped just in time for Halloween.
The VP Black Pearl Collar is one of the staple pieces to have launched in the original Vanderpump collections. It is made of 10mm & 6 mm brilliant acrylic beads, sewn atop a strong fabric collar, designed for small to medium sized pets (up to 25 pounds) only. The collar sparkles and shines when light hits the black pearl beads for a dramatic, luminating effect. The collar itself is made from industrial steel cable, and is decorated with these beautiful faux pearls.
Sizing:
SM: up to 10 pounds 1.5 cm x 30 cm (12 in) Minimum Tensile
Testing up to 140 pounds
MD:   up to 25 pounds 1.5 cm x 40 cm (16 in) Minimum Tensile
Testing up to 140 pounds
The VP Pets Black Pearl Leash with Designer Link Handle was made to be worn with the collar, bringing durability, affordability, and style to a whole new level. The beaded leash is complete with luminating pearl beads, a couture chain handle, and was tested for exceptional durability. It can be combined with the VP Black Pearl Collar, or be worn as a standalone piece. The couture chain handle has leatherette finishing, alongside 10mm & 6 mm brilliant acrylic beads. The leash is also made for small to medium sized pets (up to 25 pounds) only. In pull tests, the leash can withstand over 150 pounds, and it is also made from industrial steel cable, decorated with beautiful pearls and accessories. The leash is available in one size only (120 cm/47 inches). Both the black pearl collar and leash are available on the Vanderpump Pets website at http://www.vanderpumppets.com.
Each Goodnewsforpets.com 15th Anniversary contest features the sterling silver Heart-Paw charm custom designed by Elena Kriegner, exclusively for Goodnewsforpets. The charm is as versatile as you and can be worn as a necklace, on a bracelet or even a pet's collar.
This contest in our Goodnewsforpets 15th Anniversary Contest Series to win a VP Black Pearl Leash/Collar set, the sterling silver Goodnewsforpets Heart-Paw charm and a donation to a local shelter or rescue of the winner's choice will commence midnight October 13, 2015 and close midnight October 23, 2015. It is also being promoted on Tracy Shaw's blog, Having Fun Saving.

Register now for your chance to win and share on your social media accounts using #GNFP15thAnniversaryContest!
Watch for more 15th Anniversary contests on goodnewsforpets.com. For companies interested in sponsoring contests, contact Lea-Ann Germinder.