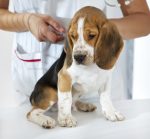 What is the one vaccine the law requires you get for your dog?
A. Rabies. Get a rabies vaccine for your dog—it's the law. Rabies is a fatal—and preventable—disease that can be spread to humans by contact with saliva, so it's mandatory in all 50 states in the U.S.
Your veterinarian is bound by law to give your dog a rabies vaccine to protect you as well as your pet; if an unvaccinated dog is scratched or bitten by a wild animal, it can lead to your pet being quarantined or euthanized. Learn the specifics about the rabies laws in your state at rabiesaware.org.
Source: American Animal Hospital Association. 
To learn more about canine vaccines, read Ranny Green's feature  "Should You Vaccinate Your Dog?"