Solving pet behavior problems is her life's work.
Answer: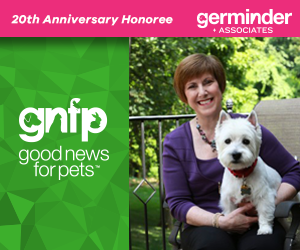 Debra F. Horwitz, DVM, DACVB, a veterinary behavior consultant has been named the first Germinder + Associates Power of Pink Honoree for being a leader in her profession. Debra F. Horwitz, DVM, DACVB, is a frequent lecturer, author, media spokesperson and past president and former public relations chair of the American College of Veterinary Behaviorists (ACVB). Horwitz also spearheaded an ACVB column on Goodnewsforpets featuring ACVB behaviorists from an ACVB book she co-edited, Decoding Your Dog.
Horwitz will also appear for special signings of her latest book, Blackwell's Five-Minute Veterinary Consult Clinical Companion: Canine and Feline Behavior 2nd edition, and at the celebration of Germinder's 20th Anniversary at the company's affiliated Goodnewsforpets™ Booth 3342, VMX 2018, Feb. 3-7, 2018.