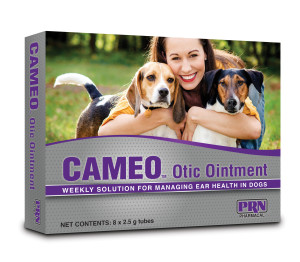 (UPDATE — January 17, 2015) CAMEO™ Otic ointment spotlighted at the 2015 NAVC convention in the featured New Product Gallery. The veterinary conference, which runs until January 21st, also features a PRN Pharmacal booth where attendees can learn more about once-a-week CAMEO™ Otic ointment and other PRN Pharmacal products. If you are in attendance this year, visit Gaylord Booth 601 for more information.
Soon Available Through Veterinarians (Pensacola, Fla. – Updated July  6, 2014) – PRN® Pharmacal introduces once-a-week CAMEO™ Otic ointment to manage otitis externa and maintain healthy ears. CAMEO Otic has a potent formulation that kills yeast and bacteria, including pseudomonas at a level of 99.8 percent for up to seven days with just one dose, a feature not common in many other ear medications. By reducing bacteria and yeast, CAMEO Otic applied once-a-week helps control secondary signs such as redness, pain and itching.
Otitis externa is one of the most commonly treated conditions in veterinary medicine, yet compliance is difficult because previously a pet owner has had to apply repeated daily applications to a pet already in pain from irritated ears. The convenience of CAMEO Otic makes it ideal for maintaining healthy ears and the proprietary blend of natural ingredients will help alleviate resistance concerns, making it ideal for dogs with recurring or chronic otitis externa. The easy-to-administer solution is packaged in eight single-use tubes – which is the precise dosing to manage two ears for an entire month.
"CAMEO Otic need only be applied once-a-week because its residual efficacy lasts up to seven days. It is one of our many products that offer veterinarians and their healthcare team a convenient solution to ultimately improve pet owner compliance," said Patrick Powell, Director of Marketing & Sales.
Veterinarians are encouraged to visit prnpharmacal.com/cameo to learn more and hear about the limited-time PRN Performance Promise, which offers clinics an opportunity to try CAMEO Otic, virtually risk-free.
CAMEO Otic is the latest addition to the suite of products from PRN Pharmacal, the makers of PROIN® and a trusted name for over 30 years. To learn more about new CAMEO Otic and other PRN Pharmacal products, visit www.PRNPharmacal.com or call 1-800-874-9764.
###