Be a Hero to Dogs Young and Old at Your Local Shelter
Each October, American Humane, the country's first national humane organization and the nation's leading first responder for animals in need, encourages animal lovers to consider adopting a dog from a local shelter or rescue group in honor of its yearly"Adopt-a-Dog Month®."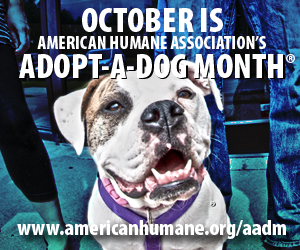 This year, American Humane is continuing its national initiative to bring awareness to a vital issue: The need to provide safe, loving homes for the thousands of older pets that often face the highest risk in animal shelters.
Each year, an estimated 3 million to 4 million shelter animals are euthanized. Many potential pet adopters overlook older animals — but there are so many reasons why dogs over the age of 6 or 7 make ideal furry family members and friends:
They tend to be less rambunctious than younger dogs.

They're often already house-trained.

They're a great fit for people with busy lifestyles.

They're so grateful for a second chance.

They love you unconditionally.
"It's heartbreaking to think about all the senior animals who had been cherished pets before they suddenly found themselves confused and alone in shelter kennels," said Dr. Robin Ganzert, president and CEO of American Humane. "Far too often this happens to many older dogs through no fault of their own —after their human owners encounter financial troubles, illness, or other life upheavals."
This need is gaining attention across the country. Numerous stories are appearing on the news, and a new book, "My Old Dog: Rescued Pets with Remarkable Second Acts," by TODAY.com writer Laura T. Coffey and photographer Lori Fusaro highlights how much senior dogs have to offer. My Old Dog shares happy adoption success stories and celebrates the grand times that can be had with shelter dogs past the age of puppyhood.
"Senior dogs who get adopted from shelters just might be the most grateful dogs on the planet," said Coffey. "And don't let their age fool you! It's amazing to see how much these dogs still have to offer and teach us."
Your local shelter is the perfect place to find dogs of every type, size, age and personality – all waiting for a loving home. Or if you prefer a particular breed that isn't currently available at a shelter, go online to find a legitimate breed-specific rescue group in need of adopters like you. In fact, why not help build momentum and spread the word by adding your name to our pledge to make your next pet a rescue or shelter animal and "like" us on Facebook and Twitter.
Find out what a shelter or rescue dog can bring to your life this October during Adopt-A-Dog Month. Here are some resources to get you started:
Adoption Center For Dog Adopters & Dog Owners
Visit our virtual Adoption Center to learn about dog adoption, behavior and care.
Get free resources to help you promote Adopt-A-Dog Month and increase dog adoptions.
American Humane established Adopt-A-Dog Month® in October 1981 as an annual event to encourage people to save lives and enhance their own lives by adopting a dog from a shelter or rescue group. Thirty-four years later, that message is as strong, true and important as ever, as millions of dogs in shelters await adoption every year.
"With so many dogs in shelters all across our country available for adoption — and many of them never finding a safe, loving, forever home — adopting a dog will make you a hero, too," added Dr. Ganzert
Here are a variety of ways to celebrate Adopt-A-Dog Month:
Adopt from a shelter or rescue group
When you're ready to open your heart and home to a new best friend, adopt from your local animal shelter or rescue group. Talk with shelter staff to find the perfect dog for you and your lifestyle, and remember that older dogs make excellent pets too.
Spay or neuter your dog
Have your dog spayed or neutered, thus preventing the possibility of unexpected, and potentially unwanted, puppies. Spayed and neutered animals have been shown to lead longer, healthier lives and have fewer of certain behavioral problems than animals who have not been spayed or neutered.
ID your pet
By putting identification on your dog, either in the form of a tag, a microchip or both, you will reduce the possibility that your pet will become one of the presumably "homeless" dogs that end up at your local shelter. Only 15-20 percent of dogs who enter a shelter are reunited with their owners. Make sure your dog is one of the fortunate few by outfitting him with proper identification!  You may also wish to enroll your dog with mobiPET, a free new, high-tech, visual "AMBER Alert" for missing pets that helps reunite lost pets with their owners., but will help raise funds to help animals in need all across the country.  Owners simply upload their pet's image and contact information at www.mobipet.me to register each pet and receive the web app for their phone.  If the dog or cat runs off pet owners can text the word "LOST" to mypet@agm.tw. Smartphone owners can either text or open the web app and click on "Lost a Pet."  The basic registration is free and mobiPET will donate 10 percent of all premium service subscriptions to American Humane when pet parents include "AHA" on the referral line.

Support your local shelter
Show the pets at your local shelter or rescue group that you care by donating time, money or supplies like pet food, leashes, beds and toys. Call the shelter to see what supplies or services are needed most. Even the smallest effort can make a difference.
About American Humane
American Humane is the country's first national humane organization, founded in 1877. To learn more visit us at www.americanhumane.org today.