MINNEAPOLIS — My Dog's Name, a resource to help new dog owners find the perfect pet name, announces its top list of nerdy dog names in 2015.
Since the site began in 2013, the number of users selecting so-called nerdy names has increased. "Today people are celebrating their geeky interests and aren't afraid to show it with a nerdy dog name," said co-founder Kyle Larson. "It's fun to see what our users are choosing and how tastes are changing."
The site classifies names related to technology, science fiction, fantasy and video games as being part of this category.
Top Nerdy Dog Names of 2015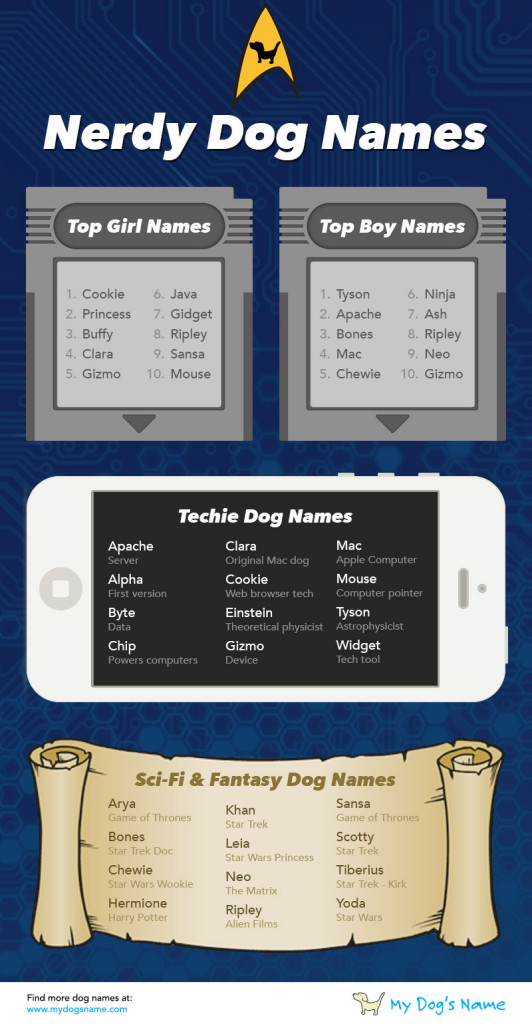 Female:
Cookie
Princess
Buffy
Clara
Gizmo
Java
Gidget
Ripley
Sansa
Mouse
Male:
Tyson
Apache
Bones
Mac
Chewie
Ninja
Ash
Ripley
Neo
Gizmo
Top Techie Dog Names
Apache (server)
Alpha (first version)
Byte (data)
Chip (powers computers)
Clara (original Mac dog)
Cookie (web browser technology)
Einstein (theoretical physicist)
Gizmo (device)
Mac (Apple computer)
Mouse (computer pointer)
Tyson (astrophysicist)
Widget (tech tool)
Top Sci-Fi and Fantasy Dog Names
Arya (Game of Thrones)
Bones (Star Trek dog)
Chewie (Star Wars Wookie)
Hermione (Harry Potter)
Khan (Star Trek)
Leia (Star Wars Princess)
Neo (The Matrix)
Ripley (Alien films)
Sansa (Game of Thrones)
Scotty (Star Trek)
Tiberius (Star Trek)
Yoda (Star Wars)
To find more nerdy dog name options, visit http://www.mydogsname.com.
About My Dog's Name
My Dog's Name is a fun and easy-to-use resource to help you new dog owners find the perfect pup name. It was founded by Kyle and Jessi Larson in 2013 when they welcomed their first dog and were less than impressed with the dog naming resources available online. As an alternative to the standard list of names, My Dog's Name allows users to sort by their style (or styles) of names they like as well as their interests and hobbies. There are literally hundreds, maybe even thousands, of possible dog names out there, but with My Dog's Name you'll find the perfect one right away.