As we close out National Pet Month and National Mental Health Awareness Month this May, we're taking a look at some products to consider for your pets.  As always check with your veterinarian as to what products are right for your pet.
Our pets have constantly picked us up on rainy days and never cease to amaze us with their floppy tongues and heavy panting that brings joy every time. In our last hot products post, we showed the many deals that Chewy has to offer this month.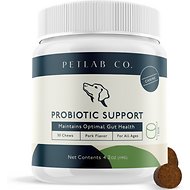 First we have the Pet Lab Co. collection. This collection includes health care for a dog's digestion, eyes, fur/hair, and more. One specific product from this collection is the Pet Lab Co. Probiotic Pork Flavor Dog Supplement, 30 count. This probiotic gives your dog's digestive system the extra TLC that it deserves. The lack of nutrients that our dogs are experiencing is no longer a problem as these chew's have eight strains of beneficial bacteria. These supplements are pork-flavored, so dogs all over the world will be begging to be healthy.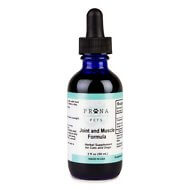 The next set of products we have on our list of amazing Chewy products for the health of our pets is the Prana Pets collection. The Prana Pets Hip, Joint & Muscle Formula Liquid Cat & Dog Supplement, 2-oz bottle. This liquid uses herbs and nutraceuticals to help support the muscles, joints, and bones of our furry friends. Designed to relieve pain, tenderness, aching and pain, this product is a natural way to keep the strides our pets nice and long.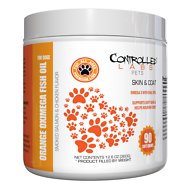 Next up is the Controlled Labs Pets collection. This collection includes the Controlled Labs Pets Orange Oximega Fish Oil Skin & Coat Support Smoked Salmon & Chicken Flavor Soft Chews Dog Supplement, 90 count. These smoked salmon and chicken-flavored Omega 3 supplements work to promote healthy skin and a healthy coat. Along with that, they work to support joints, the immune system, as well as cardiovascular health. This product is made from all natural ingredients including no soy, corn, artificial flavors or preservatives. Our dogs will love both the taste and their insides when they're done.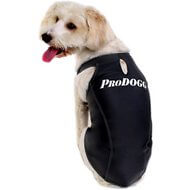 To close out this list of amazing products for such an important month, Chewy has given us the ProDogg Anxiety Vest for Dogs. This vest provide our fluffy friends who get stressed out by loud noises, traveling, and other everyday activities with a trendy little shirt. Coming in black, fuschia, grey, red, and royal blue, this compression shirt keeps pressure on your dog during times when there high anxiety levels. Ranging from X-small to 5X-Large, Chewy makes sure to lessen the worry of dog owners as well as their pets.
This post contains affiliate links, and Goodnewsforpets.com will be compensated if you make a purchase after clicking on these links. This compensation helps maintain and improve the site and shows your support for Goodnewsforpets.com. Thank you for being a member of our community.