She's an international expert in feline medicine and purrrfect in every way. A serial volunteer. Committed to her profession. A mom. An author. A lecturer. A podcaster. A social media guru. She's the bomb! Susan Little, DVM, DAVBP – Feline Medicine of Ottawa, Canada has been named the first international Germinder20 #PowerofPink Honoree. I first met her when she was a writing colleague of the late Mordecai Siegal, one of the first Goodnewsforpets columnists. Later as president of the Winn Feline Foundation, Susan asked Germinder + Associates to design the revamped Winn logo still in use today. She's designated her $1,000 Honoree donation to the Winn Feline Foundation.
We've always had a like mindedness about the importance of shared best practices on a global basis and volunteerism. Jetting to all the places armed with expertise in feline medicine?  Can't hold a candle to this lady. She's been a sounding board, helping me understand and appreciate so much about her profession, her communications style, and lest I forget, her native country, Canada. It's a great pleasure to now applaud her success and tell her story at the start of 2019. — Lea-Ann Germinder, Editor and Publisher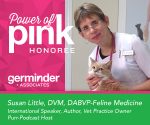 We like to start out with your story about becoming a vet. Did you always want to be a cat vet?
Yes, I always wanted to work with cats. I didn't grow up with any pets, but I was interested in cats and dogs since I was very young. I love dogs – I have two! – but cats have always fascinated me more.
You were president of the American Association of Feline Practitioners (AAFP) and were on the board for many years. What are some of the key initiatives that the AAFP offers to the pet owner?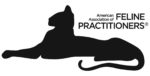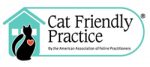 While I am no longer on the board of AAFP I continue to do committee work and will always promote their initiatives. AAFP has been a game-changer in feline medicine in North America by providing feline-specific continuing education of the highest caliber, providing evidence-based guidelines for disease diagnosis and management, and now the Cat Friendly Practice program to help vets with feline patients and Cat Friendly Homes which provides quality information for cat owners.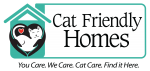 You were also president of the Winn Feline Foundation and that's when I learned about Winn. We worked closely together and I am so honored to say Germinder + Associates designed a new logo for the organization that is still in use. We are happy to promote the organization on Goodnewsforpets.  Please tell us more about why Winn is important to feline research.
Many of the things we take for granted in feline medicine, like retrovirus testing, blood pressure assessment and so much more would not be possible without Winn. This organization has been behind many of the key learnings in feline medicine for decades, yet they are a well-kept secret! Veterinary researchers know and respect Winn as a source of funding for feline medicine projects in an environment where funding is hard to get, particularly funding for feline medicine. Winn is a unique and highly valuable part of feline medicine, and I am proud to have worked with them for so many years.
You are a proponent of communication and an early adopter of social media channels. You've been a big fan of Goodnewsforpets since its early years. You were an early adopter of Facebook, Twitter, and now Instagram. Finally, your latest foray is you now have your own podcast, Purr Podcast. Why is that? Why do you believe it is important for veterinarians to communicate in these channels?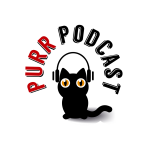 As veterinarians, we must communicate with our clients in ways they will find accessible and understandable. Social media is here to stay and is widely used by cat owners. We must be where owners are – especially Facebook and Instagram. It's a chance to make impressions on cat owners and help them make good choices for their cats by telling stories about our patients and showcasing our love of cats and our skills working with them. It's fun to create social media messages – all you need is a cell phone to get started with images and video. However, there is a wrong way and a good way to be on social media. Fortunately, we have many respected experts like you who can help us understand that.
You lecture to practicing veterinarians not just in the United States but also all over the world. Do you have a favorite destination and why?
You know, although I've been to many countries, I still love my own – Canada – the best. Especially Nova Scotia, which is where my heart lies. After that, my favorite destination is probably the next new country!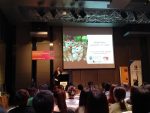 Editor's Note: Dr. Little is modest! In 2018 alone, she visited nineteen countries, traveled 183,942 miles and lectured or attended 40 events and meetings alone. In 2019, she kicks off the year lecturing at VMX in Orlando, Florida January 22 and 23. Next there is a one half day wet lab at Western Veterinary Conference February 17 and April 9 she'll be lecturing at the International Society of Feline Medicine (ISFM) Symposium in Birmingham, England. Follow her travels on Twitter @catvetsusan or on Instagram @catvetsusan. 
What are some of the differences in the way we treat our cats in the U.S. versus other countries?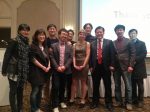 It is always a learning experience for me to see how veterinary medicine and care of cats varies from country to country. Much depends on historical and cultural attitudes toward cats, and the state of veterinary medicine, especially feline medicine. But no matter where I go, the love of cats is a common denominator. I meet veterinarians passionate about feline medicine wherever I go, and it is working with them that keeps me engaged.
We've seen so many changes in feline medicine in the past twenty years – in a very good way. We just saw for example, that the AAFP released a consensus statement on how to feed a cat. Why has so much changed in how veterinary medicine views how we as pet parents care for our cats in the home?
I think we are still learning about cats and how to live with them in a respectful and healthy way. People want to provide the best for their cats, and we know that to keep cats healthy, it's not just about what happens in the veterinary clinic, but what happens in the home environment too. One of the paradigm shifts was learning that some diseases – idiopathic cystitis being the best but not the only example – have a strong stress-influenced component. That helped us focus on learning how to have a healthy home environment so that cats can be both emotionally and physically well cared for.
You are board-certified in feline medicine/surgery (DABVP-Feline Medicine). What does it mean when a veterinarian is board- certified? Is that something a pet owner should consider in selecting a veterinarian to care for their cat or cats?
A veterinarian who is board-certified in any discipline is someone who has a deep interest in that area of medicine and who has dedicated time and effort – usually over many years – to increasing their expertise. Especially when a pet owner is faced with a difficult health problem to manage in a cat, looking for a board-certified feline veterinarian can be very helpful. The American Board of Veterinary Practitioners has a searchable database on their web site.
You practice medicine at the Bytown Cat Hospital in Canada and you lecture about feline medicine all over the world! And you are a mom! Any advise for other women professionals who are balancing it all like you?
I'm not sure I'm an expert on balancing my life! I always had amazing support from my family and my veterinary colleagues, or it wouldn't be possible. It does take a team. I have learned the hard way that paying attention to work-life balance – whatever that means for you – is critically important so that you take care of yourself and you are able to do your best for your family, your patients, and your colleagues.
Is there anything else you would like to add?
I'm very honored to be a Power of Pink Honoree! Thank you so much for the recognition, I'm among an amazing group of Honorees.
Connect with Susan Little, DVM, DAVBP:
Twitter or Instagram @catvetsusan or @purrpodcast
Listen to her Purr Podcast