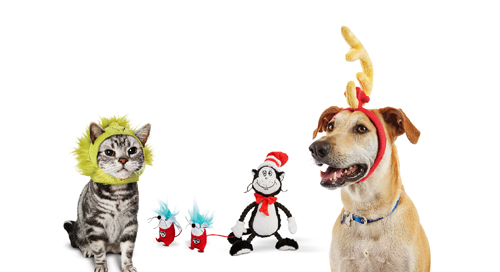 Few icons are more nostalgic than The Grinch during the holiday season, and few book series have captured the adoration of kids of all ages the way Dr. Seuss has. This season we are delighted to hear about a new collaboration that will make every pet parent squeal with delight…Dr. Seuss has brought his delightfully creative characters, in the form of cute outfits and toys, to Petco with the Dr. Seuss Pet Fans Collection.
The Grinch crew comes in new forms now: as an irresistibly squeezable dog toy ($6.99-$7.99), a flared green rebellious headpiece for your cat ($4.99), or a single Max-style doggie antler ($9.99). Thing 1 and Thing 2 have also been revived! For dogs, they come plush and true to their original twin form ($6.99). For cats, the collection creatively puts Thing 1 and Thing 2 shirts onto two different mouse toys, giving them their own stylistic interpretation for kitty ($4.99).
The Cat in the Hat, another Seussical icon, makes a cameo in both cat ($4.99) and dog toy form ($6.99-$9.99). Themed teaser toys for cats have made it into the collection too!
Available online at petco.com/drseuss, as well as at Petco and Unleashed by Petco stores nationwide, it is PUURfect for pet time holiday cuteness.