This contest is now closed. Thank you for all who entered and congrats to our winners:
Chris Campbell, from Dallas, Texas
Hannah Harris from Mayfield Hts, Ohio
Tiffany Dayton from Southaven, Mississippi
Check back for more contests on Goodnewsforpets™!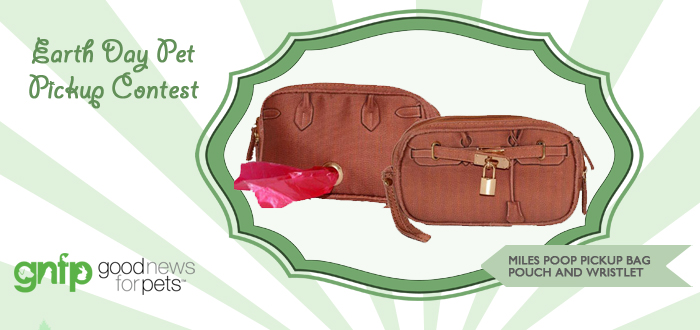 Earth Day is here and GoodNewsforPets.com is going green to celebrate! We are delighted to feature A Pets with Paws, a do-good company offering fashionable, cruelty-free, sustainable and fashion-forward pet accessories, as a featured contest. All your environmentally friendly needs have a one-stop shop! When pup "does his duty" on Earth Day, there is no better way to scoop it discreetly than with an on-trend Pooch Pickup Pouch and Wristlet. Three lucky winners will receive an A Pet with Paws Pouch and Wristlet set during our Earth Day contest, running from April 22nd through May 13th, 2016. Winners will be announced May 18th, 2016.
The bags look like leather, but they are made from…wait for it…recycled plastic bottles! The material is printed for the leather look, without the leather cost.  So both pooch and you can be styling on the sidewalk
The Miles Poop Pickup Bag Pouch is chic, and attaches to any leash, carrier or belt loop. The dimensions are 3" H 2"D and 5 ½" W. It is available in three fabulous colors: Cobalt, Pink and Pecan. The same colors can be chosen from for the wristlet, which has extra room for a smartphone, keys, money and credit cards, making it as convenient as it is stylish. The size for the wristlet is 7 ½" W 1 ¼ "D and 4 ¾" H, with a metal lock and trim.
In addition to winning a wristlet and a poop pick-up pouch, A Pet with Paws will plant a tree for each bag given away.
To learn more about A Pet with Paws, visit http://www.apetwithpaws.com/. For companies interested in sponsoring contests, contact Lea-Ann Germinder.