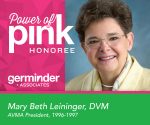 Dr. Mary Beth Leininger has a distinquished career in veterinary medicine — more than five decades of service as a private practitioner, volunteer leader, industry executive and spokesperson for the profession including serving as the first woman president of the American Veterinary Medical Association (AVMA).
Dr. Leininger retired last year as Vice President, Veterinary Relations for the Hartville Group. She now plans to devote considerable time to volunteerism focused on the student debt issue.
Prior to the Hartville Group post, Dr. Leininger held several other high-profile positions. From 2009 to 2011 she was project manager for the North American Veterinary Medical Education Consortium, (NAVMEC) an initiative of the Association of American Veterinary Medical Colleges, Washington DC. From 1999 to 2009 she was the Director, Professional Affairs for Hill's Pet Nutrition, Inc.
Dr. Leininger has served as a volunteer leader in veterinary medicine for decades. She most recently served on the Council of Education of the American Veterinary Medical Association, 2012 to 2018. She was President of the AVMA from 1996 to 1997. She served the AVMA Board of Governors from 1995-97 and was on the AVMA Executive Board from 1995 to 1998. She served on the Council on Public Rela­tions from 1985 to 1994 and was Chair from 1987 to 1988. She has also been active in leadership roles in AAHA and in the Michigan and SouthEastern Michigan Veterinary Medical Associations.
From 1971 to 1999 she was a companion animal practitioner and co-owner of the AAHA accredited Plymouth Veterinary Hospital with her husband Dr. Steve Leininger.
Dr. Leininger has won numerous professional and community awards including the following:
Honorary Doctor of Science, Purdue University; Distinguished Alumna Award, College of Veterinary Medicine, Purdue University; Honorary Veterinary Alumnus Award, Michigan State University;Distinguished Practitioner in Veterinary Medicine, National Academies of Practice; Woman Professional of the Year, Michigan Associations of the Professions; Midwest Region Service Award, American Animal Hospital Association; W Kenneth McKersie Service Award, Michigan VMA; Outstanding Contributions to the SouthEastern Michigan VMA; Russell Anthony Award, AVMA Political Action Committee; Delta Society Award for Human-Animal Bond Leadership; Pioneer Professional Award, VetPartners.
Dr. Leininger is a skilled media spokesperson and speaker and has conducted hundreds of media interviews over her long tenure of service to the veterinary profession. She has also been featured in numerous publications including "The Pros' Choice: Who Sets the Standards in More than 20 Fields. The Veterinarian's Veterinarian," Detroit Monthly Magazine.
She received her Doctor of Veterinary Medicine degree from Purdue University in 1967.
Full C.V. available upon request.