Join Goodnewsforpets in saying

Congratulations!

The finalists are:
UPDATE: THE WINNER IS:

"The Dogs of Chernobyl: A Story of Tragedy and Hope" by Paula Fitzsimmons
"Kim and Brian and Lana" by Carol Novello, David Whitman, and David Scott
"Sarah & Domino" by Carol Novello, David Whitman, and David Scott
"We are thrilled to once again sponsor this award in Goodnewsforpets.com's 20th anniversary year. The DWAA was one of the very first organizations under the auspices of then president Mordecai Seigal to step up and sponsor Goodnewsforpets.com as a media partner. Since that time I've had the honor and privelege to work with many DWAA presidents including Jen Reeder, immediate past-president, Carol Bryant, current president, Ranny Green, a past DWAA president and Hall of Famer and the youngest Hall of Famer, Steve Dale. It's been a rewarding relationship, but the most rewarding part has been the friendships made and the bond formed with the dog writing community. Congratulations to all finalists and all winners," said Germinder."
Sponsored by GoodNewsForPets.com in celebration of the digital platform's 20th anniversary, the Goodnewsforpets DWAA special award is for the best digital story – online video, blog post or online article with photography that best demonstrates the bond between people and their canine companions. The content must be demonstrated as having been shared through digital media. The winner will receive a $500 grant.
All contest winners were announced at the annual DWAA Awards Banquet February 9, 2020. The banquet was held at the Holiday Inn Secaucus Meadowlands. Goodnewsforpets is a longtime supporter and sponsor of DWAA, so we say congratulations to all finalists! To read the full list of finalists click here.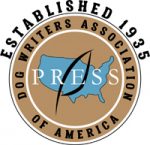 This post has been updated 3/31/20 from earlier posts.
The Venerable Ranny Green: A Nose for News And A Grand Guy Too!