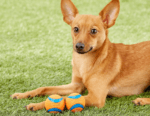 Order up the Chuckit! Ultra Rubber Ball Tough Dog Toy Small, two pack from Chewy, and be ready for outdoor play. Ononceyou spot a patch of green, you'll be ready to get outside with your small pup for some super fun exercise.
Why do we love this product? Because it gives you and your small pup hours of exercise and holds up for many more playtime sessions! The rugged bouncy balls keep on going long after being flung from the Launcher or thrown. The natural rubber is easy to wipe off and floats on water.
We also love Chuck-It! because it's  high-quality toy that is specifically designed for a game of fetch. The bright orange balls provide great visibility and are easy to spot. And, if itit'sarm enough for water play, the high-bouncing balls can be used in the water as they float.

All balls are compatible with Chuckit! Ball launchers.
Playtime and getting exercise with your pup are important – even in cold weather. And, who dodoesn'tove a great deal? So, be sure to check out the Chuckit! Ultra Rubber Ball Tough Dog Toy, Small, 2-pack.
Caution: Every dog plays differently and, since not all toys are created equal, it's always best to keep a close watch on your pup in case things get ruff. Supervised play will help toys last longer and most importantly keep your pal safe. No dog toy is truly indestructible, so always remove the toy from playtime if pieces begin to break off.
 For another Chuckit! toy from Chewy check out here.