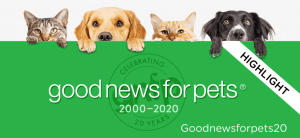 While highlighting some of our most popular posts throughout the years, we love this article about Burt's Bees for pets! Within the past few years, Burt's Bees announced the launch of their natural pet care line. With some help from our friends at Fetch For Pets, we've outlined some of the ingredients used in these products and the different lines of products they're offering. Which products are you looking forward to getting for your furry friend?
Bringing the philosophy and spirit of Burt's Bees® to our pets!
Since 1984, Burt's Bees® has been working in harmony with nature to create products that work for both people and planet. Inspired by Burt's co-founder and avid dog lover, Burt Shavitz, they strive to bring that quality of grooming and oral care products to pet parents.  Our pets are part of the family and deserve the very best in natural care. Burt's Bees™ Natural Pet Care products' manufacturing, packaging, and distribution adhere to the highest environmental standards and are made from safe, natural ingredients.
Burt's Bees Care Plus+ offers specially formulated grooming solutions with unique ingredients including Rosemary oil, Avocado oil, Olive oil, Chamomile extract, Coconut oil and more to clean, condition and protect the skin and coat. All Burt's Bees Care Plus+ products are at least 99.2% natural for safe and effective care.
The Burt's Bees Care Plus+ products have three lines called Relieving, Hydrating and Nourishing with each utilizing different unique ingredients like Coconut oil, Chamomile, Rosemary and so on. The Hydrating line includes Coconut oil and moisturizes and hydrates as it gently cleans and protect from breakage. The Reliving line uses Chamomile and Rosemary for a gentle formula to sooth irritated skin on your dog's nose, pawpads, ears and eyes. The Nourishing line with Avocado & Olive Oil naturally restores shine to fur and moisture to skin, allowing your dog to feel good in its own skin again.
Source Fetch4Pets.com
Originally Posted on March 28, 2017. All Rights Reserved.