​(SAN ANTONIO) August 9, 2016—Speaking before the American Veterinary Medical Association (AVMA) House of Delegates, incoming AVMA President Dr. Tom Meyer stressed the importance of a national association that enhances inclusion within its membership, builds unity within the veterinary profession and paves the way to a robust future.
In sharing his vision and direction for the AVMA, Meyer referred to the AVMA as the linchpin that holds a diverse, complex profession together.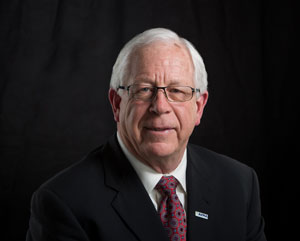 "With that diversity and complexity comes the necessity to have an organizational structure and direction that maintains value and relevancy for our members and the profession," said Meyer. "As president, my focus is on navigating the future and why it's important to do so with purpose and certainty so the AVMA continues to be that linchpin."
While recognizing the remarkable progress the association has made in areas such as member engagement, leadership development and inclusion, Meyer acknowledged that there is still work to do.
"We must continue to protect, promote and advance this honorable profession, and give our members the tools they need to better achieve their professional goals and better serve the animals we love," he said. "It's also important that we continue to build on our outreach and collaboration efforts with other stakeholders on initiatives related to economics, wellness, One Health, communication and diversity."
Meyer stressed the importance of continuing the momentum that has been built in improving the overall economic picture for young veterinarians, particularly when it comes to promoting action to reduce student debt. A committee formed to maintain momentum on the initiatives that came out of last April's Fix the Debt summit continues to identify individuals at the national, state and local levels who will champion the cause.
"There is a commitment to this economic issue that will grow stronger as we continue to work together to ease what we can all agree has become financial quicksand for our students and young veterinarians," said Meyer.
The AVMA is committing new energy and resources to improving wellness in the profession, Meyer noted, adding that a wellness roundtable last March brought good discussion and helped set the stage for continuing efforts to address this topic.
"As president, I will work to help ensure that the AVMA continues to be a participant in helping improve the wellness and well-being of our colleagues and friends," he said. "It is part of our duty as both association leaders and compassionate caregivers. And it is something I care deeply about."
Meyer described AVMA members as the lifeblood of the organization, and how it is important that the AVMA meet the evolving needs and expectations of its members and the profession. Good communication is essential to achieve productivity and maintain strong working relationships at all levels, he said, noting that the AVMA must continue to provide and explore effective communications channels to its membership and the public sector to share all that it is doing in the areas of advocacy, accreditation, veterinary economics, member services, providing leadership for the veterinary community, and more.
"It is my hope that all veterinarians recognize the value they contribute as AVMA members, and that we as an association work diligently to provide our members with the services, products and support they need," said Meyer. "In order to achieve our goals, it is important for each of us to lead, and for all of us to work together as a team. Together, we can more effectively advance our shared interests, values and goals."
In wrapping up his speech, Meyer expressed hope that, at the end of the day, the AVMA continues to attract the best and brightest to the profession, and provide them with opportunities to achieve their dreams and goals professionally and economically.
"It's also my hope that we preserve the public's trust and the high value it has placed in our profession, and that we continue to educate the public at all levels to understand and appreciate the daily contributions veterinary medicine makes to the well-being of both animals and people," said Meyer.
Meyer and his wife, Jean, are co-owners of Mountain View Veterinary Hospital, a mixed-animal practice in Vancouver, Wash., which was established in 1979 and is certified by the American Animal Hospital Association. Today, the practice employs five associate veterinarians.
Throughout his career, Meyer has served organized veterinary medicine in many capacities, including leadership positions at the local, state and national levels. He served on the AVMA Board of Directors from 2008-2014, and as its chair from 2013-2014. He is a past chair of the AVMA House Advisory Committee and also previously represented private practice-predominately equine on that committee. Meyer served in the AVMA House of Delegates as a delegate or alternate delegate for 20 years and is a past president of the Washington State Veterinary Medical Association, where he was honored as its Veterinarian of the Year in 2004. He also was chair of the Washington-Oregon-Idaho Steering Committee and was the equine representative on the AVMA Clinical Practitioners Advisory Committee.
Meyer was a 2010 recipient of the Washington State University (WSU) College of Veterinary Medicine's Distinguished Veterinary Alumni Award for Excellence in Practice. He received his doctor of veterinary medicine degree from WSU in 1978.
# # #