Featuring Star-studded Tales Of Hollywood's Legendary Actors From The Animal Kingdom In Stores Everywhere Now
There's still time: every book purchased between now and September 30th comes with free gift!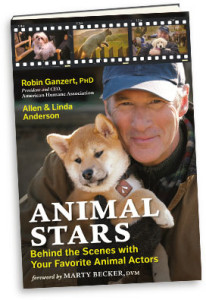 Washington, D.C., September 18, 2014 – Since the dawn of Hollywood, animal actors have played some of the most unforgettable characters ever seen on the silver screen. Their characters have charmed and delighted moviegoers and television audiences for generations, and American Humane Association, the first national humane organization, is pleased to announce that its new book "Animal Stars: Behind the Scenes With Your Favorite Animal Actors," is now available in bookstores everywhere and as an e-book. Published by New World Library and written by American Humane Association's President and CEO Dr. Robin Ganzert and Allen and Linda Anderson, the husband-and-wife founders of the Angel Animals Network, and featuring a foreword by "America's Veterinarian" Dr. Marty Becker, "Animal Stars"offers a peek behind the curtain at the fascinating world of animals and animal trainers in today's film and television industry — and the celebrities they work with.
Ever wonder how a cat learned to flush a toilet on camera (Meet the Fockers)? Or why the dog Uggie was accused of stealing every scene he was in in The Artist, including on the red carpet? From Joey in War Horse to the wolves in Game of Thrones, what we see on-screen is only the tip of the iceberg. The heartwarming stories in "Animal Stars" reveal the trainers, actors, directors, and, of course, dogs, cats, horses, birds, and more in their behind-the-scenes glory. Readers will discover that certain animal stars have diva tendencies, while others have rags-to-riches backstories, and that directors and actors stretch professional boundaries to create emotional ties with their nonhuman coworkers.
Whether penguins, horses, mixed-breed rescue dogs, or lynxes, the animals on set are as lovable, personality-filled, and at times frustrating as the animals in our own homes. World-class Hollywood animal trainers offer bonus tips for training pets after each chapter, and film icons like Steven Spielberg, Julia Roberts, Ewan McGregor, and Hailee Steinfeld share personal recollections about working with the animal stars who stole their hearts.
In the weeks leading up to the publication, the book received praise from numerous publications and key endorsements from many of the celebrities who have worked with animal stars on their sets, including world-renowned dog trainer Victoria Stilwell and star of Animal Planet's hit series "It's Me or the Dog.
"Animal Stars celebrates perfectly the role of the animal actor, those often unsung heroes on television and film that charm us with their talent and make us smile," said Ms. Stilwell, who also serves as a key member of American Humane Association's Humane Hollywood Scientific Advisory Council. "Animal Stars is a great read and if you love animals as much as I do, you'll love this book!"
This book features unprecedented access to the Hollywood stars from the animal kingdom that only an organization with nearly 150 years' experience of protecting the nation's children and animals like American Humane Association could provide. "Animal Stars" will be published on the eve of the 75th anniversary of the organization's "No Animals Were Harmed®" Program, which has overseen the protection of literally millions of animal actors on thousands of movie and television sets around the world since 1940. The "No Animals Were Harmed®" Program, the only industry-sanctioned program with oversight of animals in filmed production, has made the protection of animal actors its duty and charter.
"Animal actors have been delighting audiences for more than a century, and I know that some of my earliest and fondest memories from when I was kid have to do with those animals I saw in Disney movies and watched on TV," said Dr. Ganzert. "This book is my love letter to Hollywood's beloved animal stars, and I know readers will have a newfound admiration for the hard work and dedication that these animals and their trainers undergo to bring these spectacular roles to life on screen."
"Animal Stars" is currently on both the Amazon.com and Barnes & Noble Booksellers bestseller lists and all books ordered between now and September 30th come with a free gift – your choice of a commemorative "Animal Stars" tote bag or coffee mug!
Dr. Ganzert and some of the special animal stars featured in the book will be hitting the road this fall as part of a special national book signing tour, with dates already booked in Dallas, Houston, Minneapolis-St. Paul, Washington, Boston, Las Vegas, and more!
For more information about "Animal Stars," including book signing tour dates; special videos from Hollywood directors Steven Spielberg, Quentin Tarantino, and Cameron Crowe on the important work of the "No Animals Were Harmed®" Program; and information on how to receive the special free gift with every book ordered by September 30th, please visit www.animalstarsbook.com.