A DOG'S WAY HOME Starring Ashley Judd, Jonah Hauer-King, Edward James Olmos, Alexandra Shipp with Wes Studi and Bryce Dallas Howard is now available on DVD.  The movie will be available on Blu-ray™ Combo Pack and DVD on April 9. The package includes DIY Doggy Treat Recipes, Deleted Scenes and more!
Based on the bestselling novel by W. Bruce Cameron, A DOG'S WAY HOME  from Sony Pictures Home Entertainment chronicles the heartwarming adventure of Bella, the brave and adventurous dog that embarks on an epic 400-mile journey home after she is separated from her beloved human, Lucas. A DOG'S WAY HOME highlights the power of unconditional love between man's best friend and its human companion.
The film stars Ashley Judd ("Twin Peaks"), Jonah Hauer-King (Old Boys), Edward James Olmos ("Mayans M.C."), Alexandra Shipp (Love, Simon), and Wes Studi (Hostiles ) with Bryce Dallas Howard (Jurassic World: Fallen Kingdom) providing the charming and lovable voice of Bella. A DOG'S WAY HOME is produced by Gavin Polone (A Dog's Purpose, A Dog's Journey) and directed by Charles Martin Smith (Air Bud).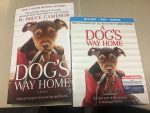 A DOG'S WAY HOME arrives with adorable extras including a DIY guide to creating your own tasty dog treats at home and several deleted scenes. Also included are interviews with novelist W. Bruce Cameron, director Charles Martin Smith and cast and crew as well as a heartwarming look at the film's canine star Bella's rags to riches journey from the shelter to the big screen.
Bonus Materials Include:
DIY Doggie Treats With Shelby What animal doesn't like a special treat? With adult supervision and some help from our furry friends, we'll make a couple of tasty homemade dog treats!
Unforgettable Journey Join novelist W. Bruce Cameron, director Charles Martin Smith and the extraordinary cast and crew as they discuss their journey to bring Bella's heartwarming tale to the big screen.
Dog Days:  Shelby's Production Diary Meet Shelby, the canine star of A Dog's Way Home and track her journey from being adopted from a shelter to being cast as "Bella".  Follow Shelby and her trainers as she prepares for the film and join her on set as she makes her big screen debut.
Deleted Scenes
A DOG'S WAY HOME has a run time of approximately 96 minutes and is rated PG for thematic elements, some peril and language.
ABOUT SONY PICTURES HOME ENTERTAINMENT
Sony Pictures Home Entertainment (SPHE) is a Sony Pictures Entertainment (SPE) company. SPE is a subsidiary of Sony Entertainment Inc., which is a subsidiary of Tokyo-based Sony Corporation. SPE's global operations encompass motion picture production, acquisition, and distribution; television production, acquisition, and distribution; television networks; digital content creation and distribution; operation of studio facilities; and development of new entertainment products, services and technologies. SPE's Motion Picture Group includes film labels Columbia Pictures, Screen Gems, TriStar Pictures, Sony Pictures Animation, and Sony Pictures Classics. For additional information, visit http://www.sonypictures.com/.