Goodnewsforpets is thrilled to introduce the Heart-Paw charm!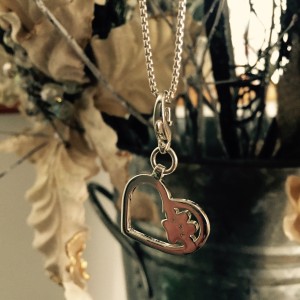 The heart-paw charm was designed exclusively for GoodNewsforPets.com by Elena Kriegner, the heart-paw symbol to represent a pet owner's love for their animal. This new, versatile charm can be worn on a necklace or charm bracelet, or it can even be a heartwarming collar accessory for your beloved furry companion. Made of sterling silver, it is sure to last as long as your love.
The heart-paw charm is a beautiful companion to the heart-paw necklace, also designed exclusively for Goodnewsforpets by Elena Kriegner. The heart-paw necklace has been won by notable colleagues in the industry, such as Yvonne DiVita of BlogPaws, Jody Miller-Young of Bark and Swagger and Pet Lifestyle Expert Sandy Robins.