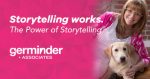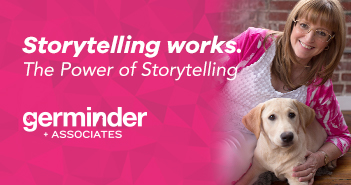 Lea-Ann O'Hare Germinder with her Grandpup Lola
Lea-Ann O'Hare Germinder, APR, Fellow PRSA is editor, publisher and founder of Goodnewsforpets.com. As 2018 comes to a close, she also celebrates the 20th anniversary of parent company Germinder + Associates with the #Germinder20 #PowerofPink. Pink was chosen as the celebratory tone to brand #Germinder20 as Germinder marks her own personal celebration — successfully leading a woman-owned business and passing the six year mark from battling breast cancer. The message is one of empowerment and thanks. Through the co-promotion and celebration of #Germinder20 and the #PowerofPinkHonorees program, Germinder has encouraged and celebrated others who have contributed to the company's success throughout the year.
Germinder is a digital and traditional media communications pro, influencer, writer, speaker and longtime leader and advocate for promoting good news about veterinary medicine and accurate pet care content to the public. She continues to innovate and create amidst a changing media landscape.
Germinder and her teams have created over 125 campaigns for the pet/vet sector, including the iconic "Pets Need Dental Care, Too!" campaign on behalf of Hill's Pet Nutrition, the American Veterinary Medical Association and the American Dental Society. She was an early proponent of the power of the Internet as a communications channel, beginning work in this area in 1995 and continues to innovate with the latest launch of GNFP Digital.
She has authored articles and delivered seminars, speeches and media appearances on both veterinary and pet-related issues to a wide variety of pet and vet audiences at domestic and international venues including the Veterinary Medicines Summit in Nice, France. This year she has spoken about digital engagement and storytelling to audiences as diverse as authors, writers and blogers at the Cat Writers' Association to international master degree students for a Luxury Brands Communications Course at Baruch College to veterinary practices at the NY Vet Show.
Germinder's commitment to volunteerism focuses on her core passions: communications, women's issues and pets. In communications, Germinder has served at a national level on the board of directors of the Public Relations Society of America and as a trustee of the Public Relations Society of America Foundation. She has served in numerous PRSA positions including PRSA New York chapter and Kansas City chapter president, Midwest District chair, and numerous committee and judging panels. She is an Accredited Fellow of the Public Relations Society of America (PRSA), one of the most prestigious honors of the public relations profession.  Germinder is also a member of the PR Council, the Publicity Club and a member of the International Public Relations Association (IPRA).
Germinder's work has been recognized by the PRSA Silver Anvil Award of Excellence, the VMX Vetty Awards, American Animal Hospital Association Gold Key Award, the IABC Bronze Quill and dozens of local communications awards.
As a woman business owner, Germinder champions women's issues through mentorship, membership and giving back. She has mentored interns, women from PRSA and PRSSA, her alma mater, the University of Dayton, and NY Women in Communications. She is a longstanding member of the national Women Presidents Organization. She has earned the Women Who Mean Business Award from the Kansas City Business Journal/Kauffman Foundation and an Enterprising Women of the Year Award.
Germinder is a member  and 2018 sponsorship chair of the Dog Writers Association of America, the Cat Writers Association of America, Women in the Pet Industry Network and numerous veterinary organizations including Veterinary Partners and Veterinary Management Association Executives (VMAE).
To contact Lea-Ann Germinder:
Email her at Lgerminder@germinder.com
Call at 917-334-8682
Send a tweet @lgerminder
Find her on Facebook at Lea-Ann E. Germinder
Follow her on instagram @leagerm