Are you a dog-loving kid with a flair for words? If so, the Dog Writers Association of America wants to hear from you. In March, the organization will be kicking off the third year of its Young Writers on the Web (YWOW) program.
Writers who are under 18 years old are encouraged to submit stories about dogs for possible publication on a special section of the DWAA website, and potentially in the DWAA newsletter Ruff Drafts as space allows. Articles published by the program will be eligible as entries for DWAA's annual writing competition.
In our first two years, we published some outstanding work, including:
a first-person story by a young man who rescued a three-legged dog and a mangy stray from death in a shelter;
a poem about the love between a boy and a dog who died;
an insider's view of the world of hunting-dog competitions;
serious fiction that explored the inner workings of a stray dog's mind;
satire about the war between nations run by Cardigan Welsh Corgis and Australian Shepherds;
an essay about how a special dog and an agility ring changed the life of a shy young girl, and much more.
What should you write about? The short answer is anything that relates to dogs. For example:
What you love about your dog
A funny or special experience you had with a dog
Your favorite thing to do with your dog
Training your dog
A make-believe short story about dogs
Why your family gave your dog his/her name
Advice for someone who is thinking about getting their first dog
Funny things dogs do
To learn more, and to read the entries from the first two years, visit:
https://dogwriters.org/young-writers/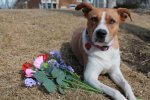 "Lucy, 3-year-old Basenji/Pit Bull Mix. Lucifer, or Lucy for short, is quite angelic despite her name. This pretty girl is energetic and radiates happiness to everyone she meets."
Photo Credit and Cutline: Valentines Day Pups, Kendle Frank Author, DWAA Entry used with Permission.