SCHAUMBURG, Ill.

,

May 3, 2015

 — Pets provide us with love, joy, comfort and companionship. To celebrate our pets during National Pet Week (

May 3-9

), the American Veterinary Medical Association (AVMA) is asking pet owners to think about what they are most thankful for from their animal companions.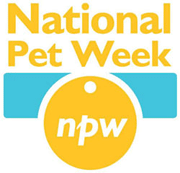 A recently released video by the AVMA features several clips highlighting the human-animal bond and describes several of the ways that pets make our lives better. From being our best friends to creating a lifetime full of memories, pets give us so much to be thankful for.
One of the best ways to thank our pets for all they do is to make sure they are as happy and healthy as possible. Scheduling a healthy pet checkup is a great way to show our appreciation. Regular veterinary checkups can help prevent disease and catch medical conditions early, before they become severe or untreatable.
Pet owners can also celebrate National Pet Week by showing their appreciation for their veterinarians. The American Veterinary Medical Foundation (AVMF) is currently seeking nominations for America's Favorite Veterinarian, a nationwide contest to honor and recognize outstanding veterinarians for their essential role in preserving and protecting the health and well-being of animals.
To nominate a veterinarian:
Visit www.avmf.org/AFV
Complete the entry form and include a narrative essay of 250 words or less on why your nominee deserves the title of America's Favorite Veterinarian.
Submit your nomination by

May 17, 2015
America's Favorite Veterinarian will receive a $500 cash prize, a trip to the 2016 AVMA Convention in San Antonio, a year-long feature on the AVMF website and a community celebration at their clinic to recognize the accomplishments of the veterinarian and his or her staff. Additionally the nominator of the winning veterinarian will receive an animal lover's gift pack.
The AVMA, founded in 1863, is one of the oldest and largest veterinary medical organizations in the world. More than 86,500 member veterinarians worldwide are engaged in a wide variety of professional activities. Visit www.avma.org for more information.