WPA focused on providing retailer tools and support to move the pet industry forward
The World Pet Association (WPA) has a new look. The organization recently undergone an in-depth evaluation of its mission, service offerings and brand to ensure they are well-positioned to serve retailers and be the catalyst for meaningful collaboration and advancement of the industry. As a mission-based association, WPA will focus its efforts around four key pillars: producing world-class trade and consumer shows and events; providing industry action and leadership; supporting retail with business services and value-added resources; and giving back through community good works.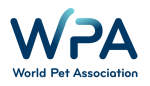 The new association logo represents a modern look, with softer lines and a subtle outline of a dog represents WPA's personality—progressive, caring, responsive and a steward of the industry and pet community. The brand and association offerings will ensure that retailers are being supported and well served with an eye towards innovation, technology and experiential marketing.
"The WPA rebrand goes far beyond a new logo and operational focus, it's about the association's leadership evaluating what the industry and our members need in order to grow and thrive in a competitive, ever-changing marketplace," said Jacinthe Moreau, WPA president. "As a result of this effort, WPA will bring its members new service offerings and a library of retailer tools that will allow the association to serve as a year-round resource. These offerings will include data-driven reports, customized information, online education, one-on-one consulting and more that will allow retailers to be agile and strategic as they plan their marketing and sales efforts. Some of these services were unveiled at SuperZoo 2019 and we look forward to more throughout the coming year."
To more closely align with the core values and needs of the pet community, WPA has also refreshed its mission and vision statements to embody the association's commitment to its community and align with its core pillars:
Mission – Seek. Share. Inspire: Everything we do is about uniting the pet community through knowledge, integrity, innovation and leadership.
Vision – Nurturing a healthier, more productive and collaborative pet industry that enriches both pet and human life.
Moving forward, WPA will double down on its partnerships with organizations like the Pet Industry Joint Advisory Council (PIJAC), the National Animal Interest Alliance (NAIA), and others to promote responsible pet ownership and further conversations about legislation, pet-friendly housing and pet-friendly workplaces.
WPA remains committed to the WPA Good Works program, where proceeds from the association's world-class events are funneled back into key industry organizations and nonprofits with the goal of promoting pet ownership and making a better world for pets resulting in a thriving pet business industry.
"WPA is eager to expand the association's offerings to retailers, leverage relationships to amplify our voice, expand the positive view of the industry and embrace technology to lead pet retailers forward and create innovative communication and business platforms," commented Moreau.
Many new WPA initiatives were launched and celebrated August 21-22 at Super Zoo 2019.