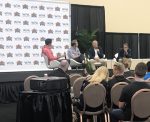 The SuperZoo Investor Hub is designed to connect investors with companies who are looking for capital investment. The Hub kicked off today August 20 at SuperZoo in Las Vegas. Entrepreneurs, product inventors and developers are beginning to explore partnerships and acquisition opportunities with leading industry investors and gain knowledge to stay ahead of emerging trends. This exciting new center will create a pipeline of innovative pet product discovery and development.
SuperZoo Investor Sessions, presented by leaders in the investor community including Leap Ventures, Purina Innovation, and Factory LLC, will continue to provide insights into the future of product offerings. These onstage discussions are educating attendees on securing capital venture funding for product development and advise on how to get in front of the right retail buyers, managing and understanding distribution strategies, growing a pet care startup, and more.
"SuperZoo is uniquely positioned to help ambitious entrepreneurs and forward-thinking investors explore partnerships and acquisition opportunities—all with the vision of remaining ahead of emerging trends and shaping the future of pet retail,"said Courtney Harold, vice president of sales, marketing & business development, WPA. "SuperZoo is where the future of the industry takes shape from product development to product discovery. As we strive to collectively grow the industry and support our thriving community, SuperZoo sets the foundation for pet retail success by providing a platform to bring this community together.
The Investor Hub sessions are held within the New Product Showcase and are open to registered attendees.
SuperZoo 2019 to Launch New Investor Hub and Product Judging Process