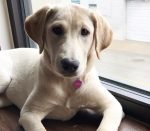 Goodnewsforpets.com's dog mascot is Lola, an AKC-registered pure-bred purpose-bred Labrador Retriever. She lives with her best pal Rosie who is a rescued shelter dog. Lola is the grandpup of editor and publisher Lea-Ann Germinder – and yes, she's had her teeth cleaned!
Lola's mom is a general surgeon and Lola herself has had several surgeries in her young life. She's had to endure quiet crate time as she recovers from her travails and has worn several "cones of shame." She has managed to recover nicely. Now she frolics in the yard and goes for many swims to her heart's content.
Like all great retrievers, Lola loves to fetch and stick toys and squeak balls are her favorite toys. She also likes to chew, or as her mom says, "defluff" with great abandon. If you have a Lab in your family, you are quite familiar with both habits.
She also loves to bake with her mom and can often be seen watching the treats bake in the oven, waiting patiently for a crumb or two. We ordered an extra special treat to celebrate Goodnewsforpets.com's 20th anniversary in 2020. The actual day is February 20th but who's going to hold these two back?
Happy Birthday, Goodnewsforpets.com!
About the Labrador Retriever
The Labrador Retriever is the most popular breed of dog in the United States, Canada, and the United Kingdom. The breed ranks number one out of 195 breeds. A medium-large breed of the retriever gun dog that originated in Newfoundland, the dog's typical weight for a female is 55-71 lbs. Labs have yellow, black, or chocolate coats.  Labs are friendly, outgoing, and high-spirited, and that certainly defines Lola!
To read more about the Labrador Retriever from the AKC, click here.