Goodnewsforpets had a "hemp day" covering all the CBD oil and related products for pets at the recent Global Pet Expo trade show. It's a pet wellness trend that's exploded with more products than ever before and isn't going away anytime soon. We'll be covering several products we saw at the show soon, but in the meantime, we did a bit of general research. Since the AKC announced the top breeds this week, we decided to consult them for their take.
Following is an excerpt from the AKC's website:
According to the American Kennel Club Chief Veterinary Officer Jerry Klein, it's important to know what CBD oil is, what it does and its safety concerns and side effects.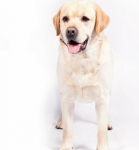 CBD, or cannabidiol, is a compound found in cannabis and hemp. Dr. Klein says it is essential to note that in most cases, CBD does not contain delta-9-tetrahydrocannabinol (THC), the compound that gives marijuana its psychoactive properties. In fact, most CBD products are derived from hemp and not  from marijuana. Currently, there has been no formal study on how CBD affects dogs. What scientists do know is that cannabinoids interact with the endocannabinoid receptors located in the central and peripheral nervous systems, which help maintain balance in the body and keep it in a normal healthy state.
While there's no definitive scientific data on using CBD to treat dogs, there's anecdotal evidence from dog owners suggesting it can treat pain, especially neuropathic pain, as well as helping to control seizures.
According to Dr. Klein, CBD is also used because of its anti-inflammatory properties, cardiac benefits, anti-nausea effects, appetite stimulation, anti-anxiety impact, and for possible anti-cancer benefits, although there's no conclusive data on this use.
To find out more from Dr. Klein and the research the AKC is doing, read the full article about this topic by visiting the AKC website here.
To read our coverage of the products we saw at Global Pet Expo, sign up to receive our newsletter or follow us on Instagram page @goodnewsforpets or Twitter @goodnewsforpets.