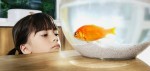 Pet owners gave a lot more loving attention to keeping small animals like hamsters and gerbils, fish and reptiles in 2020. According to the American Pet Products Association (APPA)'s 2020 State of the Industry Report, real growth in sales was up 30%.  The astounding double digit growth in the category was year over year even with fill rates* down. In an interview with Goodnewsforpets.com Editor Lea-Ann Germinder, Steve King, President& CEO of APPA said,
"This category includes aquatic fish, reptiles, birds, and the hamsters, gerbils for young children we mentioned previously. A big boost during the pandemic was people were spending a lot more time at home. It is likely to be sustained over time.  These animals will continue to need to be cared for and need food and treats and toys. They will need to keep the animals healthy and happy.
Another aspect is the freshwater fish tank being a part of the home decor. People have been spending a lot more time at home and have spent a lot more money on upgrading their overall home decor and adding things like a beautiful fish tank.
We spoke earlier about the value of pets during the pandemic. We know that fish in particular lower blood pressure and make people feel more at ease during a time of high anxiety like we just went through. I think people will see the value not only in making the home environment more beautiful but in how they feel too."
Read the rest of the interview here.
Thinking about bringing a small pet into your life? You are not alone. Read this story about global bird food diet company Zupreem Acquired by Mannapro. Watch for more small animal coverage on the Goodnewsforpets.com community platform.
*Fill rate is the percentage of customer demand that is met by immediate availability without lost sales. Due to the pandemic some sales were understandably lost.