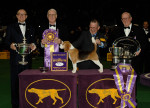 The 146th Annual Westminster Kennel Club Dog Show and the Masters Agility Championship, both presented by Purina Pro Plan®, will return to New York City on January 22 and 24-26, 2022. Due to the COVID-19 pandemic, this year's rescheduled Westminster dog show and trial are being held on June 11-13, 2021 on the grounds of historic Lyndhurst, a National Trust for Historic Preservation property in Tarrytown, New York.
As New York State continues to open event venues, the club looks forward to returning to its longtime home of New York City. The Masters Agility Championship precedes the dog show each year and the club intends to host that popular event on January 22, 2022, at a pending location. At the same venue, the daytime breed judging and the Masters Obedience Championship will be held over three days from Monday to Wednesday, January 24-26, 2022.
The evening Group and Best in Show competitions will return to Madison Square Garden, the world's most famous arena, on Tuesday, January 25 and Wednesday, January 26, 2022. All event information will become available at westminsterkennelclub.org.
About the Westminster Kennel Club
The Westminster Kennel Club, established in 1877, is America's oldest organization dedicated to the sport of dogs. It hosts the iconic, all-breed Westminster Kennel Club Dog Show, the second-longest, continuously held sporting event in the U.S., and since 1948, the longest nationally televised live dog show. The annual dog show—a conformation competition for purebred dogs—and the Masters Agility Championship and Masters Obedience Championship—where dogs from all backgrounds are eligible to compete—make Westminster Week with its nearly 3,000 dogs from the U.S. and around the world a pinnacle experience for any dog lover. America's Dog Show has captivated canine enthusiasts for more than a century with its educational benched format, where the public can engage with more than 200 breeds of dogs in New York City. The Club's mission, which enhances the lives of all dogs, celebrates the companionship of dogs, promotes responsible dog ownership, and breed preservation. WESTMINSTER. There's only one.® Visit: westminsterkennelclub.organd follow us @WKCDogShow.